Gurteen Knowledge Letter: Issue 204 - June 2017Contents
Introduction to the June 2017 Knowledge Letter
I'd like to remind you of some of the services I provide.
* Quote of the Day
Receive a quotation by e-mail on a day of the week of your choosing
http://www.gurteen.com/gurteen/gurteen.nsf/id/quotations
* Job Alerts
Receive e-mail alerts for jobs in your region
http://www.gurteen.com/gurteen/gurteen.nsf/id/jobs
* Event Alerts
Receive e-mail alerts for new conferences & workshops in your region
http://www.gurteen.com/gurteen/gurteen.nsf/id/events
` * Book Alerts
Receive e-mail alerts for recently published or interesting books
http://www.gurteen.com/gurteen/gurteen.nsf/id/books
I hope you find these useful. They are all free of charge.
A Practical KM Companion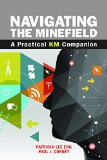 My good KM friends Patricia Eng and Paul Corney have recently published a book
Navigating the Minefield - A Practical KM Companion.
Patricia, very kindly gave me a copy at KM UK a few weeks ago. It is an excellent little book packed full of short stories about various KM programs - in fact 19 of them including ones from Airbus, ARUP, Cadbury Schweppes, Hewlett Packard (HP), the International Center for Tropical Agriculture, (CIAT), Lloyds Register Marine, NASA, MPM PETRONAS, U.K. National Health Service Digital, and the U.S. Army.
In it, they examine and analyze these diverse KM programs, using quotes, insights, and stories to show why these programs were successful and how they improved both knowledge capture and knowledge flow in their respective organizations.
Take a look, I'd highly recommend it.
Artificial intelligence must be possible. But I don't think just yet.
I have a confession to make, unlike many of my colleagues, I'm an AGI (
artificial general intelligence
) sceptic :-)
The prevailing logic seems to be that as we build more and more powerful processors that have a similar compute capacity to the human brain or similar massive connectivity that consciousness will simply emerge. "Experts"
predict AGI will happen in the next 25 - 50 years
.
I believe this is wishful thinking. We could connect a quadrillion or more iPhones and consciousness is not just going to emerge!
Today, we don't have a clue how the mind works or the nature of consciousness and until we do any prediction of when AGI might happen is just a wild guess.
I am sure we will crack it one day - just not in any of our lifetimes. That's my best guess :-)
But then I am no expert - here are
David Deutch's views
.
And another
sceptical view point
from Jessica Conditt.
How to run your first Knowledge Café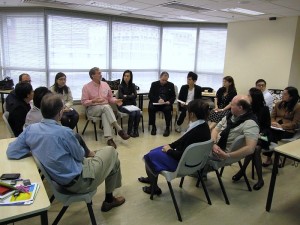 I am often asked how to get started designing and running Knowledge Cafés.
Given that the outcomes of the Knowledge Café are sometimes seen as "soft" by more hard-nosed, business focused managers, and by those working under time pressure, you may have difficulty convincing people of their value, and so it is essential to think carefully about how to get started.
I suggest you do not try to run a Knowledge Café with the sole purpose of convening some "interesting conversations."
What you have in the Café is a powerful business tool, so when you see opportunities to use the Café for a real business purpose then seize the opportunity.
Offer the Café as a response to an issue – maybe don't even call it a Café and do not try to "sell it" in a traditional way.
A Café should always have a strong business purpose.
If you are a manager, then you should not have too much of a problem as you have the authority and power to do new things, but even if you are lower down the organizational hierarchy and do not manage people, then it is still possible.
Taka look
here at some suggestions
I am putting together for my
blook on Conversational Leadership
.
The Myth of the Flat Earth
I have
talked a little about myths recently
and seem to keep stumbling over them.
I am really starting to question everything I ever been taught! For example, I was taught that people during the Middle Ages in Europe thought that the Earth was flat and not spherical.
Well it turns out, it's another big, fat myth as explained here in
Wikipedia
and again
here
. It seems that since the third century BC, few educated people in the western world have believed the earth to be flat - expect of course members of societies such as the
Flat Earth Society
.
Future Cyberwars
This last week or so I have read two disturbing articles.
What concerns me is not the politics, but the increasing ability for anyone to conduct cyberwarfare. It could be a nation-state, a terrorist organization, or a 13 year old from their bedroom.
It is the Internet, the web and the computerization of our world that has made this sophisticated
cyberwarfare
possible.
It is a serious threat.
Which is more serious, attacks on infrastructure or on sources of information? Personally, I think it is that later and is the more difficult to defend against.
The future starts in 14 seconds.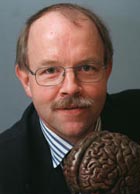 On May 17 it was 21 years since Leif Edvinsson inaugurated the
Skandia Future Center
.
To celebrate the event Leif has collected some volunteering 12 voices, into a free of charge on-line booklet
Forward Future Center 3.0
.
This booklet is about some of the global experiences from more than 20 years of prototyping since the start of Skandia Future Center in Sweden in 1996. It has been followed since by many others both in Europe and Asia, especially Japan, with its
Future Center Alliance Japan
.
When does the Future start? According to some research from Japan it starts in about 14 seconds. Are you ready?
Gurteen Knowledge Tweets: June 2017
Here are some of my more popular recent tweets. Take a look, if you are not a Tweeter, you will get a good idea of how I use it by browsing the list of micro-posts.
If you like the Tweets then
subscribe to my Tweet stream
.
Upcoming Knowledge Events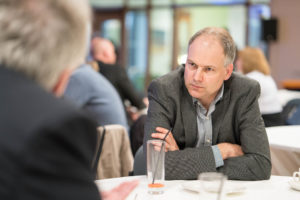 Here are some of the
major KM events
taking place around the world in the coming months and ones in which I am actively involved. You will find a
full list
on my website where you can also subscribe to both regional e-mail alerts and
RSS feeds
which will keep you informed of new and upcoming events.
4th European Conference on Social Media
03 - 04 Jul 2017, Vilnius, Lithuania
Theory and Applications in the Knowledge Economy
12 Jul 2017 - 14 Jul 2016, Zagreb, Croatia
Advanced Course in KM
12 - 13 Jul 2017, Henley on Thames, United Kingdom
KM Australia 2017
01 - 03 Aug 2017, Sydney, Australia
KMO 2017: the Twelfth International Conference on Knowledge Management in Organizations
21 - 24 Aug 2017, Beijing, China
Reflections 2017 Global Conference
06 - 09 Sep 2017, Montreal, Canada
18th European Conference on Knowledge Management
07 - 08 Sep 2017, Barcelona, Spain
12th European Conference On Innovation and Entrepreneurship 2017
21 - 22 Sep 2017, Paris, France
Subscribing and Unsubscribing
You may
subscribe
to this newsletter on my website. Or if you no longer wish to receive this newsletter or if you wish to modify your e-mail address or make other changes to your membership profile then please go
to this page on my website
.
The Gurteen Knowledge Letter
The Gurteen Knowledge-Letter is a free monthly e-mail based KM newsletter for knowledge workers. Its purpose is to help you better manage your knowledge and to stimulate thought and interest in such subjects as Knowledge Management, Learning, Creativity and the effective use of Internet technology.
Archive copies
are held on-line where you can
register
to receive the newsletter.
It is sponsored by the
Henley Forum
of the Henley Business School, Oxfordshire, England.
You may copy, reprint or forward all or part of this newsletter to friends, colleagues or customers, so long as any use is not for resale or profit and I am attributed. And if you have any queries please
contact me
.
David GURTEEN
Gurteen Knowledge
Fleet, United Kingdom
If you are interested in Knowledge Management, the
Knowledge Café
or the role of conversation in organizational life then you my be interested in this online book I am writing on
Conversational Leadership