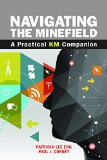 My good KM friends Patricia Eng and Paul Corney have recently published a book
Navigating the Minefield - A Practical KM Companion.
Patricia, very kindly gave me a copy at KM UK a few weeks ago. It is an excellent little book packed full of short stories about various KM programs - in fact 19 of them including ones from Airbus, ARUP, Cadbury Schweppes, Hewlett Packard (HP), the International Center for Tropical Agriculture, (CIAT), Lloyds Register Marine, NASA, MPM PETRONAS, U.K. National Health Service Digital, and the U.S. Army.
In it, they examine and analyze these diverse KM programs, using quotes, insights, and stories to show why these programs were successful and how they improved both knowledge capture and knowledge flow in their respective organizations.
Take a look, I'd highly recommend it.
If you are interested in Knowledge Management, the
Knowledge Café
or the role of conversation in organizational life then you my be interested in this online book I am writing on
Conversational Leadership