The Gurteen Event Calendar is a comprehensive global directory of conferences, seminars, workshops and courses on subjects relating to the themes of this site. Events are annotated as follows:


- I plan to attend.
- I am personally involved and may be speaking, chairing or facilitating.
- There is an outstanding "Call for Papers" for this event.
- I have arranged a discount with the organizers members of my knowledge community.


You will find information on hundreds of events such as conferences, workshops and courses on this website - events that relate to the themes of the site: knowledge, learning, creativity, innovation and personal development.

If you would like to receive an e-mail alert, no more than once a week, that informs you of recently posted events in your region then please click on the button below and complete the form. You also have the option of being reminded once a week of events coming up in your region within the next month.




On the other hand you may prefer to subscribe to an RSS Feed that will keep you informed of events in your region.
If you are an event organizer and would like to include an event on this site then please see here.
I have a set of links to a number of other event calendars on this site and also maintain a list of major annual events. The full event directory is shown below.


| | |
| --- | --- |
| | September 2019 |

20th European Conference on Knowledge Management
ECKM 2019
05 - 06 Sep 2019, Academic Conferences and Publishing International
University Europeia, Lisbon, Portugal

RESI Hackathon
11 - 12 Sep 2019, Selina
Celtic Manor Resort, Caerleon, United Kingdom

ISPIM Connects Nanjing
Constructing an Innovation City
16 - 19 Sep 2019, ISPIM - International Society for Professional Innovation Management
Jinling Hotel, Nanjing, China

L&D Influencers, Europe
17 - 18 Sep 2019, Corinium
TBD, London, United Kingdom

14th European Conference on Innovation and Entrepreneurship
ECIE 2019
19 - 20 Sep 2019, ACPI
University of Peloponnese, Kalamata, Greece

Conversational Leadership Workshop
20 - 22 Sep 2019, Nancy Dixon - John Hovell - David Gurteen
The Elvetham , Hartley Wintney, United Kingdom

Advancing your OD (Organisation Development) practice
24 - 25 Sep 2019, The Henley Forum
Henley Business School, Henley on Thames, United Kingdom

Innovations in Singapore Conference
Tue 24 Sep 2019, ISKO Singapore
Devan Nair Institute Jurong, Singapore City, Singapore


| | |
| --- | --- |
| | November 2019 |

Learning & Development Executive Summit Fall 2019
03 - 05 Nov 2019, Opal Group
New York, United States

Knowledge Management Training
04 - 08 Nov 2019, IMA International
Bangkok, Thailand

18th European Conference on e-Learning
ECEL 2019
07 - 08 Nov 2019, Academic Conferences and Publishing International Limited
Aalborg University, Copenhagen, Denmark

ECMLG 2019 15th European Conference on Management Leadership and Governance
14 - 15 Nov 2019, Academic Conferences and Publishing International Limited
Polytechnic Institute of Porto, Porto, Portugal


| | |
| --- | --- |
| | December 2019 |

ICKM Suceg 2019
Knowledge and Learning Governance for Innovation
04 - 06 Dec 2019, EGC/UFSC - Graduate Program in Knowledge Engineering Management
Florianópolis, Brasil

16th International Conference on Intellectual Capital, Knowledge Management & Organisational Learning 5-6 December 2019, Sydney, Australia
ICICKM 2019
05 - 06 Dec 2019, Academic Conferences and Publishing International
Macquarie University, Sydney, Australia


| | |
| --- | --- |
| | July 2020 |

7th European Conference on Social Media
ECSM 2020
02 - 03 Jul 2020, Academic Conferences and Publishing International Limited
UCLan,, Larnaca, Cyprus

If you find a KM Event then tweet it and add the tag #kmevent
If you are interested in Knowledge Management, the
Knowledge Café
or the role of conversation in organizational life then you my be interested in this online book I am writing on
Conversational Leadership
Gurteen Knowledge Community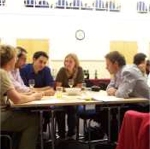 The Gurteen Knowledge Community is a global learning community of over 21,000 people in 160 countries across the world.

The community is for people who are committed to making a difference: people who wish to share and learn from each other and who strive to see the world differently, think differently and act differently.

Membership of the Gurteen Knowledge Community is free.
Knowledge Community