John Holt's first classic book on how children learn - and why they fail - based on his observations of children in the classroom. When this book was first published in 1964, it initiated an international debate on educational reform. The book sold over a million copies and established itself as a classic in its field. Despite the years which have gone by since its original publication of this quietly revolutionary book, it remains must reading for every parent and every teacher.




Video: Clay Shirky: How cognitive surplus will change the world







You will find information on over 200 books on this website - books that relate to the themes of the site: knowledge, learning, creativity, innovation and personal development.

If you would like to receive an e-mail alert whenever I post information about a new book (i.e. one that has been published in the last 12 months) then please click on the button below and complete the form.



Thoughts on Schooling
Posted to Gurteen Knowledge-Log by David Gurteen on 26 May 2004



How Children Fail (1964) by John Holt



How Children Learn (1967) by John Holt



Ivan Illich (1926 - 2002)



John Holt (1923 - 1985) American Educator



On children and learning by John Holt (1923 - 1985) American Educator



On teachers and delusion by John Holt (1923 - 1985) American Educator



On the curious child by John Holt (1923 - 1985) American Educator



On trying to force a child by John Holt (1923 - 1985) American Educator



Quotations from How Children Fail:



Children do not need to be made to learn to be better, told what to do or shown how.

If they are given access to enough of the world, they will see clearly enough what things are truly important to themselves and to others, and they will make for themselves a better path into that world than anyone else could make for them.

John Holt, (1923 - 1985) American Educator
How Children Fail
---
If you are interested in Knowledge Management, the
Knowledge Café
or the role of conversation in organizational life then you my be interested in this online book I am writing on
Conversational Leadership
Gurteen Knowledge Community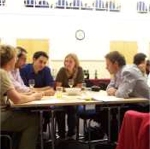 The Gurteen Knowledge Community is a global learning community of over 21,000 people in 160 countries across the world.

The community is for people who are committed to making a difference: people who wish to share and learn from each other and who strive to see the world differently, think differently and act differently.

Membership of the Gurteen Knowledge Community is free.
Knowledge Community