Flickr Slideshow: Kuala Lumpur Knowledge Cafe, January 2008





Photo slideshow of the Kuala Lumpur Knowledge Cafe, January 2008 that I ran at the Multimedia University.

Media Information:



Below is a list of pages on this site that are associated in some way with Switzerland. Click here to view other countries and their associated pages.

Knowledge Cafe at the Swiss Federal Institute of Technology.
Gurteen Knowledge-Log, David Gurteen, 29 June 2006



Bern (Switzerland)



Geneva (Switzerland)



Zurich (Switzerland)



Switzerland (Europe > Western Europe; Bern)



Keynote talk at Eduhub Days
5th Eduhub Days

Eduhub Community

, 30 - 31 Jan 2013, St Gallen, Switzerland



NetAcademy


Stars Knowledge Cafe

Swiss Knowledge Management Forum

Certified Knowledge Manager Training
12 - 16 Sep 2011, Douglas Connect


Hotel Astoria, Lucerne, Switzerland



The Front End of Innovation EMEA
Reprioritizing in the Face of Complexity
27 - 29 Feb 2012, IIR


Swissotel, Zurich, Switzerland



eduhub days 2013
Towards a Digital Planet
30 - 31 Jan 2013, SWITCH


Executive Campus University of St. Gallen, St. Gallen, Switzerland



Certified Knowledge Manager Intensive Training Program
Interactive 5 day workshop supported by extensive eLearning program
06 - 10 May 2013, Douglas Connect


Hotel Merian, Basel, Switzerland


Gurteen Knowledge Community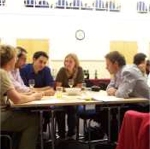 The Gurteen Knowledge Community is a global learning community of over 21,000 people in 160 countries across the world.

The community is for people who are committed to making a difference: people who wish to share and learn from each other and who strive to see the world differently, think differently and act differently.

Membership of the Gurteen Knowledge Community is free.
Knowledge Community