Most of the pages on this site are categorized by the country and many of them the city with which they are associated. This means that the site can be viewed from a country and city perspective.

The country and city pages also link you to several information sources such as the CIA World Factbook, Travel Information from the US Department of Trade and Amazon travel books.

I have also included a count of the number of people in the Gurteen Knowledge Community. These numbers are not entirely accurate as I do not know the country/city of many of my community members.

If you click the small black triangle at the top of the Community Members column - it will sort the countries by the number of members. This gives some indication of the relative interest in KM in the respective countries though clearly English speaking countries are more dominant.

I am interested to represent KM and Learning activities going on around the globe and am keen to hear from any of you who feel your country is not adequately represented. The list below only represents the 140 or so countries in which I have members though I have another 140 or so countries configured in this website with little or no information about them at all. I invite you to help me rectify that!


No documents found
If you are interested in Knowledge Management, the
Knowledge Café
or the role of conversation in organizational life then you my be interested in this online book I am writing on
Conversational Leadership
Gurteen Knowledge Community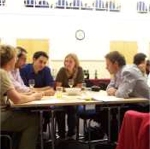 The Gurteen Knowledge Community is a global learning community of over 21,000 people in 160 countries across the world.

The community is for people who are committed to making a difference: people who wish to share and learn from each other and who strive to see the world differently, think differently and act differently.

Membership of the Gurteen Knowledge Community is free.
Knowledge Community