Video: Nick Milton on Best Practice







Below is a list of pages on this site that are associated in some way with Spain. Click here to view other countries and their associated pages.

EDO International Congress
Annual conference held in Barcelona early in the year



Barcelona (Spain)



Madrid (Spain)



Spain (Europe > Western Europe; Madrid)



9th International Conference on e-Learning (EL 2015)
21 - 24 Jul 2015, IADIS


University of Las Palmas de Gran Canaria, Las Palmas de Gran Canaria, Spain



12th International Conference Web Based Communities and Social Media 2015
22 - 24 Jul 2015, IADIS


University of Las Palmas de Gran Canaria, Las Palmas de Gran Canaria, Spain



Open Space Learning Workshop
Learn about the process of Open Space, then join colleagues for a conference about facilitation
07 - 09 May 2016, Lisa Heft
Hub Donostia at Tabakalera, Donostia/ an Sebastian, Spain



IV International Congress EDO
Situated Learning And Connected Learning: Implications For Work
11 - 13 May 2016, EDO-UAB


Centre d'Estudis Jurídics i Formació Especialitzada, Barcelona, Spain



18th European Conference on Knowledge Management
ECKM 2017
07 - 08 Sep 2017, Academic Conferences


Universitat Internacional de Catalunya (UIC), Barcelona, Spain



3rd Annual Next Generation Corporate Universities: Advancing Executive Learning
17 - 18 May 2018, Connexus Event


Madrid, Spain



18th European Conference on Digital Government
ECDG 2018
25 - 26 Oct 2018, ACPI


University of Santiago de Compostela, Santiago de Compostela, Spain



3rd International Conference on Tourism Research
ICTR 2020
27 - 28 Mar 2020, ACPI


European University of Valencia, Valencia, Spain



On doing that which I cannot do by Pablo Picasso

(1881 - 1973)



If you are interested in Knowledge Management, the

Knowledge Café

or the role of conversation in organizational life then you my be interested in this online book I am writing on

Conversational Leadership
Gurteen Knowledge Community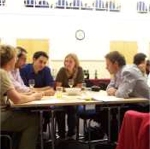 The Gurteen Knowledge Community is a global learning community of over 21,000 people in 160 countries across the world.

The community is for people who are committed to making a difference: people who wish to share and learn from each other and who strive to see the world differently, think differently and act differently.

Membership of the Gurteen Knowledge Community is free.
Knowledge Community