Video: David Gurteen's keynote talk at KM Middle East 2011





David Gurteen's keynote talk at KM Middle East 2011, Abu Dhabi, UAE. Don't do KM.

Media Information:



Below is a list of pages on this site that are associated in some way with Russia. Click here to view other countries and their associated pages.

KM Conference in Russia
Gurteen Knowledge-Log, David Gurteen, 26 November 2006



Russian Reflections - a first taste of Moscow
Gurteen Knowledge-Log, David Gurteen, 7 February 2007



My Knowledge Letter is available in Russian
Posted to Gurteen Knowledge-Log by David Gurteen on 23 June 2014



Moscow (Russia)



Russia (Europe > Commonwealth of Independent States; Moscow)



12th IFKAD - International Forum on Knowledge Asset Dynamics
Knowledge Management in the 21st Century: Resilience, Creativity and Co-creation
07 - 09 Jun 2017, Arts for Business Ltd
GSOM - University of St. Petersburg, St. Petersburg, Russia



Moscow Visit - April 2007
Posted to Gurteen Mail Log by David Gurteen on 13 March 2007



4th International Conference on Management, Leadership and Governance – ICMLG 2016
ICMLG 2016
14 - 15 Apr 2016, ACPIL


St Petersburg, Russia



On freedom by Mikhail Bakunin

(1814 - 1876) Russian Revolutionist


Gurteen Knowledge Community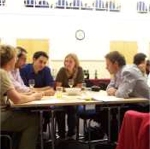 The Gurteen Knowledge Community is a global learning community of over 21,000 people in 160 countries across the world.

The community is for people who are committed to making a difference: people who wish to share and learn from each other and who strive to see the world differently, think differently and act differently.

Membership of the Gurteen Knowledge Community is free.
Knowledge Community