Flickr Slideshow: Jakarta visit July 2008





Below is a list of pages on this site that are associated in some way with Portugal. Click here to view other countries and their associated pages.

Lisbon (Portugal)



Portugal (Europe > Western Europe; Lisbon)



17th European Conference on Digital Government (ECDG 2017)
ECDG 2017
15 - 16 Jun 2017, Academic Conferences


Amadora, Lisbon, Portugal



Portal KMOL


Dedicated to Knowledge Management & Organisational Learning



11th International Conference on Mobile Learning 2015
14 - 16 Mar 2015, IADIS


Funchal, Madeira, Portugal



International Conference on Education and New Developments 2015
END 2015
27 - 29 Jun 2015, WIARS


Hotel HF Ipanema, Porto, Portugal



11th European Conference on Management Leadership and Governance
ECMLG
12 - 13 Nov 2015, ACPIL


Military Academy, Lisbon, Portugal



Social Now Europe 2016
Tools for Workforce Collaboration
11 - 12 Apr 2016, Knowman


Lisbon, Portugal



ISPIM Innovation Conference
Blending Tomorrow's Innovation Vintage
19 - 22 Jun 2016, ISPIM - International Society for Professional Innovation Management


Sheraton Porto Hotel & Spa, Porto, Portugal



10th International Conference e-Learning (EL 2016)
01 - 03 Jul 2016, IADIS


Pestana Casino Park Hotel, Funchal, Madeira, Portugal



Theory and Applications in the Knowledge Economy
The International Scientific Conference devoted to the Multidisciplinary Study of the Knowledge Economy
06 Jul - 08 Feb 2016, GOVCOPP


Universidade de Aveiro, Aveiro, Portugal



10th European Conference on Information Systems Management – ECISM 2015
ECISM-2016
08 - 09 Sep 2016, Academic Conferences


University of Évora, Evora, Portugal



9th European Conference on Intellectual Capital
ECIC 2017
06 - 07 Apr 2017, Academic Conferences


Instituto Universitário de Lisboa (ISCTE-IUL), Lisbon, Portugal



Social Now Europe 2017
Getting Results from Enterprise Social Tools
11 - 12 May 2017, Knowman


Lisbon, Portugal


Gurteen Knowledge Community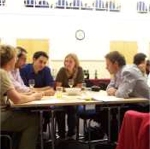 The Gurteen Knowledge Community is a global learning community of over 21,000 people in 160 countries across the world.

The community is for people who are committed to making a difference: people who wish to share and learn from each other and who strive to see the world differently, think differently and act differently.

Membership of the Gurteen Knowledge Community is free.
Knowledge Community