Gurteen Knowledge Letter: Issue 226 - April 2019Contents
Introduction to the April 2019 Knowledge Letter
If you are a reader of my
blook
or have an interest in Conversational Leadership, you may like to know that I have created
a group on LinkedIn
to discuss both my blook and the subject of Conversational Leadership more generally.
155 people have signed-up so far and I hope to get some "interesting conversations" started there soon.
Do come along and join me.
The true complexity of the world outstrips our ability to fully explain it
I have long been an admirer and follower of the work and thinking of
David Weinberger
ever since he was one of the authors of
The ClueTrain Manifesto in 1999
.
He still never fails to have an impact on me in his writing. Recently he wrote a Medium article entitled
Machine Learning Widens the Gap Between Knowledge and Understanding
.
It's a ten minute read but here is the jist.
We humans have long been under the impression that if we can just understand the immutable laws of how things happen, we'll be able to perfectly predict, plan for, and manage the future.

We have, therefore, made it our business to know how things happen by discovering the laws and models that govern our world.

Given how imperfect our knowledge has always been, this assumption has rested upon a deeper one.

Our unstated contract with the universe has been that if we work hard enough and think clearly enough, the universe will yield its secrets, for the universe is knowable, and thus, at least, somewhat pliable to our will.

But now that our new tools, especially machine learning and the internet, are bringing home to us the immensity of the data and information around us, we're beginning to accept that the true complexity of the world far outstrips the laws and models we devise to explain it.

Our newly capacious machines can get closer to understanding it than we can, and they, as machines, don't really understand anything at all.


David goes on to give some good examples, the bottom line, however, us that AI can discover relationships between things in the world that we humans will never be able to, given the size and complexity of the data, even though the AI software has no understanding of the world. In David's words:
"We need to give up our insistence on always understanding our world and how things happen in it."
A new world is dawning,
Comfy Café or outcome-driven classroom?
If you are a lecturer, teacher or trainer of any description then you may be interested in this blog post by
Jakob Werdelin
on
Co-Creative Conversation deconstructed: Comfy Café or outcome-driven classroom?
.
Jakob took part in one of my
London Knowledge Cafés
in February and was inspired to adapt the Café format to an educational setting by creating "Co-Creative Conversations".
Jakob ran a trial at the University of Roehampton Business School that I gather was a great success and he now has a free public event coming up in May in Brimingham in the UK:
Empowering KS2-5 learners through Participatory Budgeting
.
I have long thought that the
Knowledge Café
has a strong role to play in Education and you can find a
few examples
I have documented in my blook. I am hoping Jakob's work and that of others will help inspire more educationalists to take the role of conversation in education more seriously. It's great to see some the work in schools on
oracy
for example.
IBM Project Debater
If you have yet to watch it - take a look at this debate with IBM's Project Debator.
Experience a live debate between the first AI system to debate humans on complex topics, Project Debater, and a top human debater. During a twenty minute debate on a complex topic, Project Debater will digest massive texts, construct a well-structured speech, deliver it with clarity and purpose, and rebut its opponent.


The human debator is the clear winner but the computer does an amazing job given it doesn't "understand" a thing it is talking about LOL.
Imagine, a few years time, and you are dictating an article/essay or blog post on a topic into your smartphone and you can have a "conversation" with an app based on this technology thats advises and corrects you in real time. Kinda like
Grammarly
on steroids!
The Henley Forum 2020 Awards
The
Henley Forum 2020 Awards
recognise those who are advancing organisational practice. We want to hear from people who are working to develop dynamic capability though knowledge, learning, change and innovation work. For example, by:
enabling knowledge to flow
fostering organisational learning
facilitating organisational change and development
cultivating innovation
and collaborating across boundaries.
These prestigious awards will recognise practitioners who are working to advance knowledge, learning and change practice in their organisations, and the people whose thinking has most influenced them. Awards will be presented at The 20th Annual Henley Forum Conference on 05-06 February 2020. You can
apply here
.
Conversational Leadership Workshop
Nancy Dixon
,
John Hovell
and I are running a 3-day residential workshop on Conversational Leadership in the UK this autumn. You will find
full details here
.
We have an amazing venue - the Elevetham - a Victorian Gothic Mansion set in an estate of 4,000 acres in the Hampshire countryside and a history dating back to the 11th century.
We are also very excited about the content as John, Nancy and I bring diverse perspectives and skills to the 3-days.
We have kept the price exceedingly low to make it easy for you to participate - the early bird price (expires May 1st) only just covers our cost.
Do
take a look
and get in touch with me, if you have any questions.
Updates to my blook on Conversational Leadership April 2019
I continue to develop my blook on Conversational Leadership by the day. What I like about it compared with a conventional book other than what I have
written here
is that is evolving to be so much more than a book.
I can add so much in the way of structure and additional resources. In fact, it is starting to look a little more like my
gurteen.com site
.
I have recently added the following resources:
KM Summit 2019, London
The annual Ark Group
KM Summit 2019
is coming up on 4 - 5 June, at the Cumberland Hotel in London. They have an
excellent agenda
with two streams, one for Legal KM and the other for the Corporate/Charity/Public sector.
I am looking forward to giving a talk on the rationale behind Conversational Leadership in the plenary towards the end of the second day. Nick Stone, the conference producer did a
short video interview
with me a few weeks back where I briefly described what Conversational Leadership was all about. It is only six minutes long and if you see it through to the end, you will get a good idea of what Conversational Leadership is all about and why I think it is so, so important.
Come along on the 4 - 5 June and learn more.
Gurteen Knowledge Tweets: April 2019
Here are some of my more popular recent tweets. Take a look, if you are not a Tweeter, you will get a good idea of how I use it by browsing the list of micro-posts.
If you like the Tweets then
subscribe to my Tweet stream
.
Upcoming Knowledge Events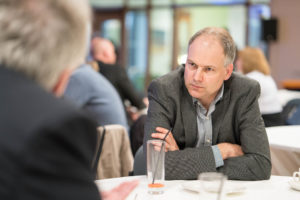 Here are some of the
major KM events
taking place around the world in the coming months and ones in which I am actively involved. You will find a
full list
on my website where you can also subscribe to both regional e-mail alerts and
RSS feeds
which will keep you informed of new and upcoming events.
24th Annual Knowledge Management Conference
29 Apr - 03 May 2019, Houston, United States
Webinar: An Introduction to Conversational Leadership
Tue 30 Apr 2019, Global
DoD and Federal Knowledge Management Symposium
14 - 16 May 2019, Baltimore, Maryland, United States
10th European Conference on Intangibles and Intellectual Capital
23 - 24 May 2019, Pescara, Italy
KM Summit 2019
04 - 05 Jun 2019, London, United Kingdom
Social Now 2019
06 Jun 2019 - 07 Jun 2017, Lisbon, Portugal
Chief Learning Officers & Influencers Forum, Spring
11 - 13 Jun 2019, Scottsdale, United States
6th European Conference on Social Media
13 - 14 Jun 2019, Brighton, United Kingdom
Advanced Course in Knowledge Management (KM)
17 Jun - 18 Jul 2019, Henley, United Kingdom
TAKE 2019
03 Jul - 05 Jan 2019, Vienna, Austria
20th European Conference on Knowledge Management
05 - 06 Sep 2019, lisbon, Portugal
14th European Conference on Innovation and Entrepreneurship
19 - 20 Sep 2019, Kalamata, Greece
Advancing your OD (Organisation Development) practice
24 - 25 Sep 2019, Henley on Thames, United Kingdom
European Conference on the Impact of Artificial Intelligence and Robotics
31 Oct - 01 Nov 2019, Oxford, United Kingdom
16th International Conference on Intellectual Capital, Knowledge Management & Organisational Learning 5-6 December 2019, Sydney, Australia
05 - 06 Dec 2019, Sydney, Australia
Please help support my work
I have been writing and publishing this Knowledge Letter every month for over 17 years and most of you have been receiving it for 5 years or more. My Knowledge Café also had its 16th birthday last September.
If you enjoy my work and find it valuable, please consider giving me a little support by donating $1 (or more) a month to
Become a Patron
or making small one off contribution.
I am not going to get rich on this but it will help cover some of my website hosting expenses.
I have 48 patrons so far. A big thanks to you all.
Unsubscribe
If you no longer wish to receive this newsletter then please reply to this email with "no newsletter" in the subject line.
The Gurteen Knowledge Letter
The Gurteen Knowledge-Letter is a free monthly e-mail based KM newsletter for knowledge workers. Its purpose is to help you better manage your knowledge and to stimulate thought and interest in such subjects as Knowledge Management, Learning, Creativity and the effective use of Internet technology.
Archive copies
are held on-line where you can
register
to receive the newsletter.
It is sponsored by the
Henley Forum
of the Henley Business School, Oxfordshire, England.
You may copy, reprint or forward all or part of this newsletter to friends, colleagues or customers, so long as any use is not for resale or profit and I am attributed. And if you have any queries please
contact me
.
David GURTEEN
Gurteen Knowledge
Fleet, United Kingdom