Gurteen Knowledge Letter: Issue 222 - December 2018Contents
Introduction to the December 2018 Knowledge Letter
The December issue of my newsletter is always the shortest one of the year. This year is no exception.
If you celebrate Christmas, I hope you have had a wonderful time and I'd also like to wish everone a very happy and prosperous New Year.
I came across this quote from Tim O'Reilly a few years back. It makes an interesting thought to ponder on for 2019.
Pursue something so important that even if you fail, the world is better off with you having tried.



Credit: Tim O'Reilly
Christmas Books
If you have received a book token for Christmas and are looking for an interesting book to purchase then take a look at my
Conversational Leadership Books page
in my blook.
The book I have been reading over Christmas is this one "
Humble Leadership
: The power of relationships, openness and trust" by Edgar Schein and his son Peter Schein.
I particularly like their four levels of relationship tough I think I may like to add one or two more levels.
Level Minus 1: Total impersonal domination and coercion
Level 1: Transactional role and rule-based supervision, service, and most forms of the "professional" helping relationships
Level 2: Personal cooperative, trusting relationships as in friendships and in effective teams
Level 3: Emotionally intimate total mutual commitments
It has also stimulated my thinking about "conversational levels".
And one other new book that I am just starting to get into "
The Talking Revolution
: How Creative Conversation Can Change The World" by Peter Osborn and Eddy Canfor-Dumas which has a lot of overlap with my thinking on Conversational Leadership.
Please help support my work
I have been writing and publishing this Knowledge Letter every month for over 17 years and most of you have been receiving it for 5 years or more. My Knowledge Café also had its 16th birthday in September.
If you enjoy it and find it valuable, please consider giving me a little support by donating $1 (or more) a month to
Become a Patron
.
I am not going to get rich on this but it will help cover some of my website hosting expenses.
I have 44 patrons so far. A big thanks to you all.
Stammtisch table at the RSA
Several years ago I was working in the library of the RSA in London and fell into conversation with two people at the same table.
We had to whisper, as after all this was a library, but we got to talking about the fact that although many people used the RSA library and bar and other facilities there was no easy way to meet people and strike up a conversation if you were there on your own.
I talked about some of my conference ideas such as wearing a badge that said "talk to me" or even creating special tables where people could sit with the expectation of talking to strangers. And we discussed what a great idea it would be if the RSA had something like this.
It was then that one of my new acquaintances told me about the German concept of Stammtisch.
I had never heard about it before but when he explained the concept I immediately fell in love with the idea. A Stammtisch is a table in a pub or restaurant reserved for regular customers or alternatively outside of Germany a table reserved for people who would like to meet to practice their German.
I liked the idea of bending the concept a little further and creating tables in bars, cafes and large conferences etc where people can sit if they wish to have conversations with strangers. Many people need a little bit of an excuse to start up a conversation and this would provide it but maybe it needs a new label – a "knowledge table" or "conversation table".
That was in 2007 when I talked to several people at the RSA about the idea but nothing came of it, so imagine my delight today in 2018 when I see they have created a
Stammtisch table their new Rawthmells coffeehouse
.
Extremism is so easy
I have long thought that many people who take extreme positions with a passion on an issue do so as it is far easier than to take a nuanced one.
It is so much easier to defend an extreme position. Things afr black and white. It's a lazy option.
In my random travels through the web, I have stumbled across two well known but very different people who hold a similar opinion.
The opinions that are held with passion and are always those for which no good ground exists



Credit: Bertrand Russell
Extremism is so easy. You've got your position, and that's it. It doesn't take much thought.



Credit: Clint Eastwood
Gurteen Knowledge Tweets: December 2018
Here are some of my more popular recent tweets. Take a look, if you are not a Tweeter, you will get a good idea of how I use it by browsing the list of micro-posts.
If you like the Tweets then
subscribe to my Tweet stream
.
Upcoming Knowledge Events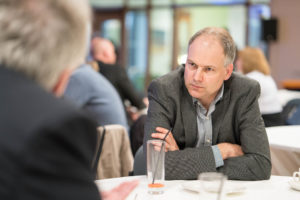 Here are some of the
major KM events
taking place around the world in the coming months and ones in which I am actively involved. You will find a
full list
on my website where you can also subscribe to both regional e-mail alerts and
RSS feeds
which will keep you informed of new and upcoming events.
Advancing your OD practice
22 - 23 Jan 2019, Henley on Thames, United Kingdom
Learning & Development Executive Summit 2019
03 - 05 Feb 2019, Orlando, FL, United States
Henley Forum annual conference
06 - 07 Mar 2019, Henley on Thames, United Kingdom
KM Showcase 2019: Beyond the Theory
04 - 05 Apr 2019, Arlington, VA, United States
24th Annual Knowledge Management Conference
29 Apr - 03 May 2019, Houston, United States
10th European Conference on Intangibles and Intellectual Capital
23 - 24 May 2019, Pescara, Italy
Social Now 2019
06 Jun 2019 - 07 Jun 2017, Lisbon, Portugal
Chief Learning Officers & Influencers Forum, Spring
11 - 13 Jun 2019, Scottsdale, United States
6th European Conference on Social Media
13 - 14 Jun 2019, Brighton, United Kingdom
20th European Conference on Knowledge Management
05 - 06 Sep 2019, lisbon, Portugal
14th European Conference on Innovation and Entrepreneurship
19 - 20 Sep 2019, Kalamata, Greece
Unsubscribe
If you no longer wish to receive this newsletter then please reply to this email with "no newsletter" in the subject line.
The Gurteen Knowledge Letter
The Gurteen Knowledge-Letter is a free monthly e-mail based KM newsletter for knowledge workers. Its purpose is to help you better manage your knowledge and to stimulate thought and interest in such subjects as Knowledge Management, Learning, Creativity and the effective use of Internet technology.
Archive copies
are held on-line where you can
register
to receive the newsletter.
It is sponsored by the
Henley Forum
of the Henley Business School, Oxfordshire, England.
You may copy, reprint or forward all or part of this newsletter to friends, colleagues or customers, so long as any use is not for resale or profit and I am attributed. And if you have any queries please
contact me
.
David GURTEEN
Gurteen Knowledge
Fleet, United Kingdom