Gurteen Knowledge Letter: Issue 212 - February 2018Contents
Introduction to the February 2018 Knowledge Letter
I am travelling much less these days. Since getting married again five years ago and slowing down just a little with age, I have less inclination to roam the world. I also have my
blook
to write.
But hopefully this year, I will make a few trips, Brussels, Singapore, Kuwait and Dubai may be on the cards but the only definite trip right now is to Lisbon, Portugal on 16/18th May for Ana Neves' Social Now 2018 conference.
You will find details of the
agenda as well as the masterclasses
online. I'll be giving a talk on "Improving online conversations and knowledge sharing" and running a masterclass "How to design, convene and facilitate Knowledge Cafés". Both these topics as you know are close to my heart.
The great thing about the conference though, apart from its
unique format
and the other
speakers
is that it is on a Thurs/Fri giving the weekend to explore Lisbon.
I hope to see a few of you there. Let me know if you plan to go.
The Listening Project: intimate conversations between friends or relatives
The BBCs
listening project
is a fascinating one.
Since 2012 the BBC have been collecting intimate conversations between friends or relatives, to build a unique picture of our lives today. They have collected over a thousand so far, and most are being broadcast on BBC radio and are being archived by the
British Library
to preserve them for future generations.
Go
listen here
. Each conversation is only a few minutes long.
The project was inspired by
StoryCorps
, an initiative set up in the United States. Their mission is "to provide Americans of all backgrounds and beliefs with the opportunity to record, share, and preserve the stories of our lives". The conversations are stored at the
Library of Congress
.
Here are two wonderful tasters for you, the first from the BBC
Mother and daughter Ama and Jan talk about Racism on the Rise
and a delightful mother and daughter conversation from StoryCorps
I love your more than a unicorn and I really love unicorns
.
Jonathan Norman interviews me about Conversational Leadership
If you have 15 minutes and would like to learn a little about Conversational Leadership then take a look at this
short video interview
that Jonathan Norman of the
Major Projects Knowledge Hub
held with me recently.
You will find my blook on
Conversational Leadership here.
Dave Snowden: A succinct overview of his groundbreaking work
Dave Snowden
is an prodigious and extraordinary thinker and I guess best known as the developer of the
Cynefin framework
- a decision making tool. I love
his blog
and read every post. He has had a profound influence on my thinking.
Next year, I hope to see his long awaited book published but in the mean time if you are looking for a succinct introduction to his work take a look at these
takeouts
(by
Sonja Blignaut
) and video from a TedX talk he gave in November 2017.
It's an 18 minute summary of the key aspects of his work and a wonderful resource for anyone looking for a succinct introduction.
Will the future economy be a knowledge economy or a human economy?
There is opinion that the Knowledge Economy does not exist or is a
myth
. Or that maybe it should be termed the
Information or Digital Economy
.
People are also increasingly talking about the
Human Economy
or the
Caring Economy
.
I personally think in terms of the Human Economy - as it is broader than just caring. The concept is a simple one.
As technology develops, especially AI, there are going to be
less and less traditional jobs
. The machines are going to take them. We can see the impact already.
The jobs that will be left will be the "human ones" - the jobs ONLY human beings can do - the "caring jobs"- the jobs that require human warmth, touch and empathy, nursing, healthcare, education etc and of course other work that only humans can do such as entertainment, the arts and sport.
These will be the only jobs available to the vast majority of "young people" with or without skills or a University degree.
There will still be a Knowledge Economy but it will be for the few - the people who program and tend the computing machines and digital infrastructure.
Jack Ma has some
interesting views on education
.
Will the future economy be Knowledge based or Human based and what are the questions we should be asking?
Career, Community and Cause - the three things people want out of work
According to a recent article in the Harvard Business Review based on some people analytics research at Facebook, people want three things out of work.
Career is about work: having a job that provides autonomy, allows you to use your strengths, and promotes your learning and development. It's at the heart of intrinsic motivation.

Community is about people: feeling respected, cared about, and recognized by others. It drives our sense of connection and belongingness.

Cause is about purpose: feeling that you make a meaningful impact, identifying with the organization's mission, and believing that it does some good in the world. It's a source of pride.


The results are maybe not too surprising but the item that jumped out at me was community as I have been trying to document just what it
community means in my blook
. It is still work in progress to some degree and I'd love any feedback you may have.
The Scientific Method for Kids
There are many subjects that everyone should be taught in school but I think one of the most important things that children need to learn is how to make sense of the world and thus they need to learn about the
scientific method
. They need never be scientists if that is not their calling but they simply need to understand how science works.
Science is not a collection of facts; it is a way of viewing and studying the world. Teaching the scientific method for kids does not expect them to reason as miniature adults, but kids can use a simplified version of the scientific method to explore their world.


Ask a question.
Learn as much as you can about it.
Come up with a hypothesis (a possible answer/solution).
Do experiments to test what you believe.
What did you find out?
Tell others what you learned.
Would you like to help support my work?
I have been writing and publishing this Knowledge Letter every month for over 17 years. It is distributed to over 23,000 people around the world and most of you have been receiving it for 5 years or more.
If you enjoy it and find it valuable, please consider giving me a little support by donating $1 (or more) a month to
Become a Patron
.
I am not going to get rich on this but it will help cover some of my expenses.
So far, with little promotion, I have 23 patrons (thats 5 more than last month) who contribute $46 each month in total. A big thanks to you all.
Upcoming Knowledge Events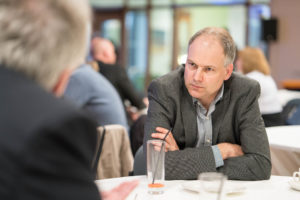 Here are some of the
major KM events
taking place around the world in the coming months and ones in which I am actively involved. You will find a
full list
on my website where you can also subscribe to both regional e-mail alerts and
RSS feeds
which will keep you informed of new and upcoming events.
IntraTeam Event Copenhagen 2018
27 Feb - 01 Mar 2018, Copenhagen, Denmark
6th International Conference on Innovation and Entrepreneurship 2018
05 - 06 Mar 2018, Washington DC, United States
Henley Forum Conference 2018
07 - 08 Mar 2018, Henley on Thames, United Kingdom
CII Knowledge Management Summit 2018
Thu 08 Mar 2018, Bangalore, India
International Days of Competences for the Future
12 - 14 Mar 2018, Poznan, Poland
Knowledge Management Forum 2018
Thu 15 Mar 2018, London, United Kingdom
The International Conference on Innovation & Knowledge Management (iKM2018)
17 - 18 Mar 2018, Beijing, China
APQC's 2018 Knowledge Management Conference
16 - 20 Apr 2018, Houston, United States
10th European Conference on Intangibles and Intellectual Capital
19 - 20 Apr 2018, Mechelen, Belgium
Chief Learning Officer, Spring 2018
15 - 17 May 2018, San Francisco, United States
Social Now 2018
16 - 17 May 2018, Lisbon, Portugal
How to design, convene and facilitate Knowledge Cafés
Fri 18 May 2018, Lisbon, Portugal
END 2018 Conference
23 - 25 Jun 2018, Budapest, Hungary
TAKE 2018 - Multidisciplinary Conference on Theory and Applications in the Knowledge Economy
12 - 13 Jul 2018, Poznan, Poland
9th Knowledge Management International Conference
25 - 27 Jul 2018, Sarawak, Malaysia
Thirteenth International Conference on Knowledge Management in Organisations
06 - 10 Aug 2018, Žilina, Slovakia
19th European Conference on Knowledge Management
06 - 07 Sep 2018, Padua, Italy
13th European Conference on Innovation and Entrepreneurship
20 - 21 Sep 2018, Aveiro, Portugal
The 9th International Conference on Innovation and Knowledge Management in Asia Pacific (IKMAP2018)
31 Oct - 02 Nov 2018, Hangzhou, China
KM World 2018
06 - 08 Nov 2018, Washington DC, United States
Gurteen Knowledge Tweets: February 2018
Here are some of my more popular recent tweets. Take a look, if you are not a Tweeter, you will get a good idea of how I use it by browsing the list of micro-posts.
"Community is about people: feeling respected, cared about, and recognized by others. It drives our sense of connection and belongingness." https://buff.ly/2CzsKXM /interesting research at Facebook as to what people want from work. Career, Community and Purpose.


Outside of a dog, a book is man's best friend. Inside of a dog, it's too dark to read. Groucho Marx /Just love Groucho Marx!


The two views of "labor as a resource" and "engaged workers" are incompatible @nancymdixon https://buff.ly/2CsvGVU #KM #KMers#EmployeeEngagement


The Listening Project: a partnership between BBC Radio 4, BBC local and national radio stations, and the British Library: Capturing the nation in conversation. #ConversationalLeadership https://buff.ly/2o4aJwl


"How to Save Face and Not Cause Someone to Lose Face" https://buff.ly/2ESvJx0 /A really good article on the mainly Asian concept of "face"


The biggest assumption that humans make is that everyone sees life the way we do https://buff.ly/2nICbiO


Difficult Conversations: 9 Common Mistakes https://buff.ly/2BQE3dL

Why "knowledge sharing" cannot replace "knowledge management" https://buff.ly/2EdHLRy


Free Book to download" "Knowledge Productivity in the Public Sector" https://buff.ly/2lGekP2 #KM #KMers
If you like the Tweets then
subscribe to my Tweet stream
.
Subscribing and Unsubscribing
You may
subscribe
to this newsletter on my website. Or if you no longer wish to receive this newsletter or if you wish to modify your e-mail address or make other changes to your membership profile then please go
to this page on my website
.
The Gurteen Knowledge Letter
The Gurteen Knowledge-Letter is a free monthly e-mail based KM newsletter for knowledge workers. Its purpose is to help you better manage your knowledge and to stimulate thought and interest in such subjects as Knowledge Management, Learning, Creativity and the effective use of Internet technology.
Archive copies
are held on-line where you can
register
to receive the newsletter.
It is sponsored by the
Henley Forum
of the Henley Business School, Oxfordshire, England.
You may copy, reprint or forward all or part of this newsletter to friends, colleagues or customers, so long as any use is not for resale or profit and I am attributed. And if you have any queries please
contact me
.
David GURTEEN
Gurteen Knowledge
Fleet, United Kingdom