Gurteen Knowledge Letter: Issue 207 - September 2017Contents
Introduction to the September 2017 Knowledge Letter
Last year I ran a face-to-face Knowledge Café in London to help celebrate World Values Day organized by Charles Fowler but this year we are going to experiment with something a little different - a virtual Knowledge Café hosted on the Zoom video conferencing platform.
I already have almost 100 people registered from 25 different countries and have places for a few more. Zoom will support over 100 participants and allowing for a few no-shows, I plan to cap registration at 120. I normally limit my face-to-face Cafés to less than 30 but I plan to modify the format a little for Zoom to handle a larger number. All a bit of an experiment but I think it will work well.
The Café is on Tuesday 10th October - do sign up if you haven't already. If you are not familiar with Zoom, I think the experience will amaze you.You will get to have several small group conversations (3 to 4 people per group) - not text but full video/audio chats.
Take a
look here for more information
.
Peter Block on small group working
In reseaching for my
blook on Conversational Leadership
, I came across these words of wisdom in this short 90 second video clip from
Peter Block about small group working
.
How do I get every voice in the room?
How do I get people in the room who cross social distance levels?
How do I get people in the room who aren't like-minded?
How do we structure our time together?
As he concludes, all the methodologies he mentions are moronically simple. To which I might add, so why are they so often ignored?
Are vague Ideas sometimes better than firm ones?
I rather like this thought about ideas from Pablo Picasso.
We don't necessarily need a clear, crisp, sharp idea or vision. A hazy one, a sense of vague direction may sometimes be better as we are then more likely to explore along the journey and make serendipitous discoveries.
Maybe vague ideas are at the heart of being creative.
You have to have an idea of what you are going to do, but it should be a vague idea.


To turn on a dime for a dime
I gave a talk and ran a Knowledge Café at a recent
Large-Scale Scrum Conference
in London and had the pleasure of meeting Craig Larman, the co-creator of LeSS (Large-Scale Scrum) with his colleague Bas Vodde.
A few things Craig said stuck in my mind. First:
What gets measured gets gamed.


I have long been critical of measures because they are too easily gamed and I only wish I had come up with this catchy way of expressing it myself as an alternative to "What gets measured gets done."
A second quote from Craig was:
To turn on a dime for a dime.


This was said in the context of
adaptive capacity
- a key goal of Agile software development. So in other words "to quickly change direction at a low cost".
It reminded me of this quote that is so often miss-attributed to Darwin:
It is not the strongest of the species that survives, nor the most intelligent that survives. It is the one that is most adaptable to change.


Though this statement is more accurate:
It is not the most intellectual or the strongest of species that survives; but the species that survives is the one that is able to adapt to and adjust best to the changing environment in which it finds itself.


In our rapidly changing, unpredictable world, the ability "to turn on a dime for a dime" is fundamental to personal, organizational or societal survival.
In order to adapt, we need to better understand the changes taking place and to act accordingly. We can only do this through open conversation and collective sensemaking. Hence our "conversational capacity" - our ability to hold strategic conversations is key.
Do you believe or do you want to know?
Could this be the root cause of so much of the trouble in the world?
There are two different types of people in the world: Those who want to know, and those who want to believe.


Upcoming Knowledge Events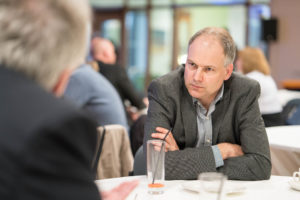 Here are some of the
major KM events
taking place around the world in the coming months and ones in which I am actively involved. You will find a
full list
on my website where you can also subscribe to both regional e-mail alerts and
RSS feeds
which will keep you informed of new and upcoming events.
G-LINK Summit 2017
04 - 06 Oct 2017, Bangkok, Thailand
World Values Virtual Knowledge Café
Tue 10 Oct 2017, Online
13th International Conference On Knowledge Management
25 - 27 Oct 2017, Dallas, United States
KM Asia 2017
15 - 16 Nov 2017, Hong Kong, China
Advancing your OD practice
23 - 24 Jan 2018, Henley on Thames, United Kingdom
6th International Conference on Innovation and Entrepreneurship 2018
05 - 06 Mar 2018, Washington DC, United States
Henley Forum Conference 2018
07 - 08 Mar 2018, Henley on Thames, United Kingdom
10th European Conference on Intangibles and Intellectual Capital
19 - 20 Apr 2018, Mechelen, Belgium
Gurteen Knowledge Tweets: September 2017
Here are some of my more popular recent tweets. Take a look, if you are not a Tweeter, you will get a good idea of how I use it by browsing the list of micro-posts.
If you like the Tweets then
subscribe to my Tweet stream
.
Subscribing and Unsubscribing
You may
subscribe
to this newsletter on my website. Or if you no longer wish to receive this newsletter or if you wish to modify your e-mail address or make other changes to your membership profile then please go
to this page on my website
.
The Gurteen Knowledge Letter
The Gurteen Knowledge-Letter is a free monthly e-mail based KM newsletter for knowledge workers. Its purpose is to help you better manage your knowledge and to stimulate thought and interest in such subjects as Knowledge Management, Learning, Creativity and the effective use of Internet technology.
Archive copies
are held on-line where you can
register
to receive the newsletter.
It is sponsored by the
Henley Forum
of the Henley Business School, Oxfordshire, England.
You may copy, reprint or forward all or part of this newsletter to friends, colleagues or customers, so long as any use is not for resale or profit and I am attributed. And if you have any queries please
contact me
.
David GURTEEN
Gurteen Knowledge
Fleet, United Kingdom