Mauritius is an island in the Indian Ocean, east of Madagascar.

In addtion to the links above here are a few more interesing links concerning Mauritius:

Managing Knowledge in Mauritius

University of Mauritius

National Computer Board


Video: Knowledge Cafe Masterclass, Copenhagen 2011







Below is a list of pages on this site that are associated in some way with Mauritius. Click here to view other countries and their associated pages.

PortáLouis (Mauritius)



Mauritius (Africa > SouthernáAfrica; PortáLouis)



eLearning Africa 2017
12th International Conference on ICT for Development, Education and Training
27 - 29 Sep 2017, ICWE GmbH

Mauritius
Gurteen Knowledge Community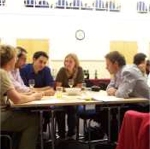 The Gurteen Knowledge Community is a global learning community of over 21,000 people in 160 countries across the world.

The community is for people who are committed to making a difference: people who wish to share and learn from each other and who strive to see the world differently, think differently and act differently.

Membership of the Gurteen Knowledge Community is free.
Knowledge Community