Juanita, with her partner, David Isaacs, is a co-originator of the World Café. She collaborates as a thinking partner and design advisor with senior leaders across sectors, creating and hosting innovative forums for strategic dialogue on critical organizational and societal issues.

Juanita's keynotes and seminars have attracted a broad range of leaders, including members of Fortune 100 companies, government, health, education and community based organizations in the U.S., Latin America, Europe and the Pacific Rim.

As a Senior Affiliate with the MIT Sloan School's Organizational Learning Center (now the Society for Organizational Learning), Juanita participated as a member of the core research team with the MIT Dialogue Project and as co-faculty for SOL's Executive Champions' Program.

She has served as a Research Affiliate with the Institute for the Future and is a Fellow of the World Business Academy.


| | |
| --- | --- |
| Google Video Search | Loading... |

The Art of Powerful Conversations by David Isaacs, Juanita Brown, Eric E. Vogt


Catalyzing Insight, Innovation, and Action



Conversation as a core business process
Posted to Gurteen Knowledge-Log by David Gurteen on 24 October 2002



The Future of Knowledge (Oct 2002) by Verna Allee
Increasing Prosperity through Value Networks



The World Café (Apr 2005) by Juanita Brown, David Isaacs, Margaret J. Wheatley
Shaping Our Futures Through Conversations That Matter



Conversation [127 items]
Business is a conversation because the defining work of business is conversation - literally.



Dialogue [91 items]



World Cafe [9 items]



Video Playlist: The World Cafe
Video Playlist: The World Cafe



David Isaacs

Juanita Brown

On conversational leadership by Thomas J. Hurley and Juanita Brown

If you are interested in Knowledge Management, the
Knowledge Café
or the role of conversation in organizational life then you my be interested in this online book I am writing on
Conversational Leadership
Gurteen Knowledge Community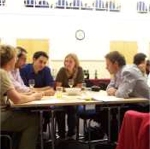 The Gurteen Knowledge Community is a global learning community of over 21,000 people in 160 countries across the world.

The community is for people who are committed to making a difference: people who wish to share and learn from each other and who strive to see the world differently, think differently and act differently.

Membership of the Gurteen Knowledge Community is free.
Knowledge Community