David is President of Clearing Communications, an organizational and communications strategy company working with corporate leaders in the U.S. and abroad.

David was a co-convener of the MIT Organizational Learning Center's Strategic Dialogue on Large Scale Systems Change in collaboration with an Intel executive, and has worked with a wide range of clients including Chevron, Cargill, Hewlett Packard, Scandinavian Airlines Systems (SAS), Silicon Graphics (SGI), and Lego (Denmark).

David has served as guest faculty for innovative learning programs with the University of Texas Business School (Executive MBA), the California Institute of Integral Studies (Leadership Coaching), and the Kaos Pilots University (Denmark/USA).


| | |
| --- | --- |
| Google Video Search | Loading... |

The Art of Powerful Conversations by David Isaacs, Juanita Brown, Eric E. Vogt


Catalyzing Insight, Innovation, and Action



Conversation as a core business process
Posted to Gurteen Knowledge-Log by David Gurteen on 24 October 2002



The Future of Knowledge (Oct 2002) by Verna Allee
Increasing Prosperity through Value Networks



The World Café (Apr 2005) by Juanita Brown, David Isaacs, Margaret J. Wheatley
Shaping Our Futures Through Conversations That Matter



Conversation [127 items]
Business is a conversation because the defining work of business is conversation - literally.



Dialogue [91 items]



World Cafe [9 items]



Video Playlist: The World Cafe
Video Playlist: The World Cafe



David Isaacs

Juanita Brown
Would you like to learn how to run a Knowledge Café?
If so, I am running a Knowledge Café Masterclass with CILIP in central London on Thursday 1st November 2018.
You can find full information here: 
https://www.cilip.org.uk/page/KnowledgeCafe
David Gurteen

I help people to share their knowledge; to learn from each other; to innovate and to work together effectively to make a difference!
How to contact me
My Blog
Gurteen Knowledge Community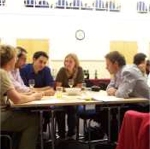 The Gurteen Knowledge Community is a global learning community of over 21,000 people in 160 countries across the world.

The community is for people who are committed to making a difference: people who wish to share and learn from each other and who strive to see the world differently, think differently and act differently.

Membership of the Gurteen Knowledge Community is free.
Knowledge Community