Video Playlist: Alfie Kohn







Below is a list of pages on this site that are associated in some way with Ireland. Click here to view other countries and their associated pages.

Essential Web Journaling
Gurteen Knowledge-Log, David Gurteen, 10 November 2002



Dublin (Ireland)



Ireland (Europe > Western Europe; Dublin)



16th European Conference on Research Methodology for Business and Management Studies
ECRM 2017
22 - 23 Jun 2017, Academic Conferences


Dublin, Ireland



World Congress on Education (WCE-2015)
19 - 21 Oct 2015, Infonomics Society


Clayton Hotel Ballsbridge, Dublin, Ireland


Gurteen Knowledge Community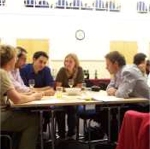 The Gurteen Knowledge Community is a global learning community of over 21,000 people in 160 countries across the world.

The community is for people who are committed to making a difference: people who wish to share and learn from each other and who strive to see the world differently, think differently and act differently.

Membership of the Gurteen Knowledge Community is free.
Knowledge Community