Video: J. Krishnamurti: You Are the World







Below is a list of pages on this site that are associated in some way with Iceland. Click here to view other countries and their associated pages.

Reykjavik (Iceland)



Iceland (Europe > Western Europe; Reykjavik)



OEB MidSummit
08 - 09 Jun 2017, ICWE GmbH


Hilton Reykjavik Nordica, Reykjavik, Iceland



Iceland Summit on International Law & Human Rights 2015
Developing Initiatives to Implement Human Rights Legislation
08 - 10 Oct 2015, Institute for Cultural Diplomacy


Reykjavik, Iceland


Gurteen Knowledge Community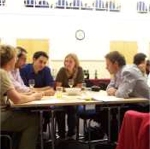 The Gurteen Knowledge Community is a global learning community of over 21,000 people in 160 countries across the world.

The community is for people who are committed to making a difference: people who wish to share and learn from each other and who strive to see the world differently, think differently and act differently.

Membership of the Gurteen Knowledge Community is free.
Knowledge Community