A core member of BP's knowledge management team during the late 90's, he now looks at organisational capability, and finds ways to embed the company's knowledge in core business processes. He is a recognised coach and facilitator, challenging the statements and actions of team members, both co-located and virtual.

In 2001 he co-authored a book with Chris Collison, called "Learning to Fly", about the lessons learned from applying Knowledge management inside BP. A second edition is to be published in October 2004 including stories of how other organisations have applied the techniques.

He has just returned to BP following an 18 month secondment to the UN where he helped develop approaches for sharing responses to the HIV pandemic on a global scale.

He has a deep understanding of human dynamics in networks, and has been responsible for the "Peer Assist" process across the company - a keymechanism for mobilising and harnessing the knowledge in peoples' heads.

Geoff passionately believes that learning things together and sharing the outcome is a powerful way to work.

error


No More Consultants
Posted to Gurteen Knowledge-Log by David Gurteen on 16 November 2009



Learning to Fly (2001) (Jan 2001) by Chris Collison, Geoff Parcell
Practical Lessons from one of the World's Leading Knowledge Companies



Learning to Fly (2004) (Oct 2004) by Chris Collison, Geoff Parcell
Practical knowledge management from leading and learning organisations



No More Consultants (Sep 2009) by Chris Collison, Geoff Parcell
We know more than we think



Learning to Fly Conference Materials, December 2004
The 6th Gurteen Knowledge Conference



The BP Story

BP
BP Corporate Site



Learning to Fly Forum
Yahoo Group: Community of interest for readers of the KM handbook "Learning to Fly"



Chris Collison Knowledge Consultant



Geoff Parcell Knowledge Management Consultant


Gurteen Knowledge Community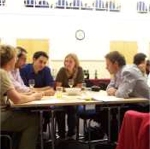 The Gurteen Knowledge Community is a global learning community of over 21,000 people in 160 countries across the world.

The community is for people who are committed to making a difference: people who wish to share and learn from each other and who strive to see the world differently, think differently and act differently.

Membership of the Gurteen Knowledge Community is free.
Knowledge Community