A community of interest for readers of the practical knowledge management handbook "Learning to Fly"




Flickr Slideshow: ECKM 2007, Barcelona, September 2007





Photo slideshow of ECKM 2007,

8th European Conference on Knowledge Management

in Barcelona, Spain on 6-7 September 2007.

Media Information:



Online Forum
Learning to Fly Forum
Yahoo Group: Community of interest for readers of the KM handbook "Learning to Fly"
Gurteen Knowledge Community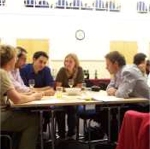 The Gurteen Knowledge Community is a global learning community of over 21,000 people in 160 countries across the world.

The community is for people who are committed to making a difference: people who wish to share and learn from each other and who strive to see the world differently, think differently and act differently.

Membership of the Gurteen Knowledge Community is free.
Knowledge Community