Below is a list of pages on this site that are associated in some way with Finland. Click here to view other countries and their associated pages.

Helsinki (Finland)



Finland (Europe > Western Europe; Helsinki)



Sveiby Knowledge Management


Karl-Erik Sveiby's Knowledge Management website



6th International Forum on Knowledge Asset Dynamics
Knowledge-Based Foundations of the Service Economy
15 - 17 Jun 2011, Institute of Knowledge Asset Management, Tampere University of Technology, IA Centre
Tampere University of Technology, Tampere, Finland



'Knowledge is Power- Improve Your Performance' -seminar
26 Apr 2012, NIVEUS LUX


Bläk, Simonkatu 8, 00100, Helsinki, Finland


Gurteen Knowledge Community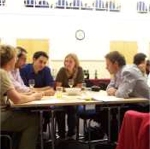 The Gurteen Knowledge Community is a global learning community of over 21,000 people in 160 countries across the world.

The community is for people who are committed to making a difference: people who wish to share and learn from each other and who strive to see the world differently, think differently and act differently.

Membership of the Gurteen Knowledge Community is free.
Knowledge Community