Search Panel
Search this site for pages containing:
category

e-learning

elearning



Search the web for pages containing:
category

e-learning

elearning



Search Amazon.com for book titles containing:
category

e-learning

elearning



Search Amazon.co.uk for book titles containing:
category

e-learning

elearning



Search the Merriam-Webster Thesaurus for:
category

e-learning

elearning



Search the Merriam-Webster Dictionary for:
category

e-learning

elearning


e-Learning is any form of learning that utilizes a network for delivery, interaction, or facilitation. The network could be the Internet, a school or college LAN or a corporate Intranet (WAN). It includes distributed learning, distance learning (other than pure correspondence), computer-based training (CBT) delivered over a network, and web-based training (WBT). Learning takes place individually (guided or instructed by a computer) or as part of a class. On-line classes meet either synchronously (at the same time) or asynchronously (at different times), or some combination of the two.

e-Learning is not simply about taking a course and putting it on the desktop. It is about using technology to offer a blend of resources, increased choice and customisation, interactivity, performance support and facilitated learning activities at a time, pace and place that suits the organisation and the learner.


| | |
| --- | --- |
| Google Video Search | Loading... |
The pages on this website are categorized into one or more of nearly 100 categories (themes or topics). This page below displays a list of other pages that belong to the e-Learning category. You may view the list of pages belonging to another category by selecting the category in which you are interested from the drop-down 'Categories' menu at the top of this page.

E-Moderating (Apr 2000) by Gilly Salmon


The Key to Teaching and Learning OnLine



e-Learning [16 items]



Academic Conferences International
Academic Conferences International



Elearnity
European Corporate Learning Analyst



E.Learning age
UK e-learning magazine



Learning Circuits
Online magazine about e-learning



The 4th International Workshop on Learning Technology for education in Cloud
LTEC 2015
24 - 28 Aug 2015, Staffordshire University - University of Maribor


University of Maribor, Maribor, Slovenia



11th International Conference on e-Learning (ICEL-2016)
ICEL 2016
02 - 03 Jun 2016, Academic Conferences


Global Open Access Learning (GOAL) Centre Universiti Sains Islam Malaysia (USIM),, Kuala Lumpur, Malaysia



12th International Conference on e-Learning
ICEL 2017
01 - 02 Jun 2017, ACPIL


University of Central Florida, Orlando, United States



eLearning Africa 2017
12th International Conference on ICT for Development, Education and Training
27 - 29 Sep 2017, ICWE GmbH

Mauritius

13th International Conference on e- Learning
ICEL 2018
05 - 06 Jul 2018, ACPI


CPUT Grangers Bay Campus, Cape Town, South Africa



17th European Conference on eLearning
ECEL 2018
01 - 02 Nov 2018, ACPIL


Technological Educational Institution (TEI) of Athens Greece, Athens, Greece



Diana Laurillard Professor of Educational Technology at the Open University, UK



If you are interested in Knowledge Management, the

Knowledge Café

or the role of conversation in organizational life then you my be interested in this online book I am writing on

Conversational Leadership
Gurteen Knowledge Community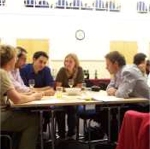 The Gurteen Knowledge Community is a global learning community of over 21,000 people in 160 countries across the world.

The community is for people who are committed to making a difference: people who wish to share and learn from each other and who strive to see the world differently, think differently and act differently.

Membership of the Gurteen Knowledge Community is free.
Knowledge Community