Knowledge Management in Malaysia.


Video: Knowledge Sharing Talk at NLB, Singapore







Below is a list of pages on this site that are associated in some way with Malaysia. Click here to view other countries and their associated pages.

Knowledge Management International Conference (KMICE)
Biannual conference held in Malaysia in August



Kuala Lumpur (Malaysia)



Penang (Malaysia)



Malaysia (Asia > South-East Asia; Kuala Lumpur)



Giving a talk and facilitating a workshop at BNM KM Conference
KM Conference 2012: Strengthening Organisational P ...

Bank Negara Malaysia Knowledge Management Centre

, 08 - 12 Oct 2012, Kuala Lumpur, Malaysia



KM Talk

Knowledge Management Association of Malaysia

The Global Centre of Excellence for Human Capital (GCEHC)
Universiti Teknologi Mara, Malaysia



The Knowledge Management Centre, Multimedia University, Malaysia

Invite to Gurteen Knowledge Cafe in Singapore or Jakarta
Posted to Gurteen Mail Log by David Gurteen on 21 January 2012



Knowledge Management Malaysia Forum
Yahoo Group: A Malaysian KM forum



11th International Conference on e-Learning (ICEL-2016)
ICEL 2016
02 - 03 Jun 2016, Academic Conferences


Global Open Access Learning (GOAL) Centre Universiti Sains Islam Malaysia (USIM),, Kuala Lumpur, Malaysia



ISPIM Innovation Summit
Moving the Innovation Horizon
04 - 07 Dec 2016, ISPIM - International Society for Professional Innovation Management


Parkroyal Kuala Lumpur, Kuala Lumpur, Malaysia



Working smarter in a knowledge world: why space matters for collaboration, innovation and knowledge transfer
Exploring the relationship between space, collaboration and knowledge transfer
Tue 21 Mar 2017, International Islamic University of Malaysia


International Islamic University of Malaysia, Kuala Lumpur, Malaysia



5th International Conference on Innovation and Entrepreneurship 2017
ICIE 2017
26 - 27 Apr 2017, Academic Conferences


Multimedia University, Kuala Lumpur, Malaysia



Equipping today's Knowledge Manager for tomorrow
mastering the skills of knowledge management
Tue 21 Nov 2017, International Islamic University Malaysia


IIUM Kuala Lumpur Campus, Kuala Lumpur, Malaysia



9th Knowledge Management International Conference
KMICe
25 - 27 Jul 2018, Universiti Utara Malaysia


Miri, Sarawak, Malaysia



If you are interested in Knowledge Management, the

Knowledge Café

or the role of conversation in organizational life then you my be interested in this online book I am writing on

Conversational Leadership
David Gurteen

I help people to share their knowledge; to learn from each other; to innovate and to work together effectively to make a difference!
How to contact me
My Blog
Gurteen Knowledge Community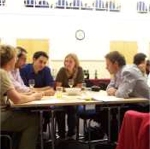 The Gurteen Knowledge Community is a global learning community of over 21,000 people in 160 countries across the world.

The community is for people who are committed to making a difference: people who wish to share and learn from each other and who strive to see the world differently, think differently and act differently.

Membership of the Gurteen Knowledge Community is free.
Knowledge Community