Video: David Gurteen on how to best secure continuous innovation





David Gurteen on how to best secure continuous innovation.

The Institute for Research and Innovation in Social Services (IRISS)

, Glasgow.

Media Information:



Below is a list of pages on this site that are associated in some way with Belgium. Click here to view other countries and their associated pages.

Annual KM4DEV Meeting
Annual meeting held in Brussels early in the year



Brussels (Belgium)



Belgium (Europe > Western Europe; Brussels)




Knowledge Management (KM) and Organisational Learning (OL), XPE/ Modis Belgium
Contract. Depending on experience
Posted on September 22, 2018
Brussels, Belgium



Selected Websites on Dialogue
Resources on Dialogue



SuperCoP KM Belgium

LINQ 2015 Calls for Papers, Projects and Workshops on Learning Innovations and Quality for Changing and Opening Up Education
LINQ Conference 2015 Announces Motto as "The Need for Change in Education: Openness as Default?"
12 - 13 May 2015, TELIT Institute


Brussels, Belgium



Women Empowerment Forum
For Business Women in the Top Management
16 - 17 Sep 2015, Fleming Europe


Brussels, Brussels, Belgium



10th European Conference on Intangibles and Intellectual Capital
ECIIC 2018
19 - 20 Apr 2018, ACPI


Thomas More - Campus De Vest, Mechelen, Belgium



Knowledge Management training
Unlock insights in your organisation
07 - 11 May 2018, IMA International


MSF, Brussels, Belgium



Would you like to learn how to run a Knowledge Café?

If so, I am running a Knowledge Café Masterclass with CILIP in central London on Thursday 1st November 2018.

You can find full information here: 

https://www.cilip.org.uk/page/KnowledgeCafe
David Gurteen

I help people to share their knowledge; to learn from each other; to innovate and to work together effectively to make a difference!
How to contact me
My Blog
Gurteen Knowledge Community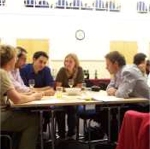 The Gurteen Knowledge Community is a global learning community of over 21,000 people in 160 countries across the world.

The community is for people who are committed to making a difference: people who wish to share and learn from each other and who strive to see the world differently, think differently and act differently.

Membership of the Gurteen Knowledge Community is free.
Knowledge Community