He is sought-after because he combines his track record as a practitioner, experienced in the practical, real-world knowledge management with a strategic ability to inspire at board level.

Testimonials include:
…Chris's involvement has made a real difference here, inspiring us to take our knowledge management activity to greater heights.
…a wonderfully energetic speaker whose knowledge and enthusiasm shines through…
…a superb combination of powerful anecdotal stories and real practical help in carrying forward the concepts of knowledge management.

Chris has worked with and advised leaders at the highest levels of more than twenty public and private-sector organizations, sharing the practical experiences he gained whilst working in BP's knowledge management team, and his deep understanding of the human dynamics of major change programmes.

Chris joined BP in 1989, occupying a series of positions in Research, IT and Organisational Development. In the late '90s he worked as part of BP's acclaimed knowledge management team which led him to co-author the book "Learning to Fly" which has now become a standard work in the field of knowledge management selling over 10,000 copies worldwide, available in five languages. A second edition, drawing in stories from ten new organisations was published in 2005.

In 2001 Chris joined international energy and essential services company Centrica plc, occupying a series of Director level positions before becoming "Director of Change & Knowledge management". In this role he was responsible for developing organisational capability across this organisation of 35,000 employees, for developing Knowledge Management Strategy and for coaching the leadership team in the leadership of change and transformation.

After 15 years in corporate roles, Chris now operates as an independent management consultant, owner and director of Knowledgeable Ltd.

His clients include Orange, Oracle, Schlumberger, BAE Systems, NHS, Dept of Health and a number of other public and private sector organisations.

As a best-selling author and advisor he has presented to audiences at business schools and at public and in-company conferences and masterclasses around the world. Chris is a regular contributor to specialist knowledge management publications, and is a member of the editorial boards of "Inside Knowledge", KM Review", "Journal of Knowledge Management", "Global Knowledge Review".

Chris is a Chartered Fellow of the CIPD, and is an Associate at Henley Management College. He is married with two young daughters, and lives in Sunninghill, Berkshire in the UK.


| | |
| --- | --- |
| Google Video Search | Loading... |

No More Consultants
Posted to Gurteen Knowledge-Log by David Gurteen on 16 November 2009



A good video collection of interviews with a number of KM people
Posted to Gurteen Knowledge-Log by on 20 February 2011



Learning to Fly (2001) (Jan 2001) by Chris Collison, Geoff Parcell
Practical Lessons from one of the World's Leading Knowledge Companies



Learning to Fly (2004) (Oct 2004) by Chris Collison, Geoff Parcell
Practical knowledge management from leading and learning organisations



No More Consultants (Sep 2009) by Chris Collison, Geoff Parcell
We know more than we think



Answers on the back of a postcard please ... by Chris Collison
The Global Knowledge Review - March 2005



The BP Story

BP
BP Corporate Site



KM and British Petroleum


Article: A Historic Example of the SAIC KM Approach



Learning to Fly Forum
Yahoo Group: Community of interest for readers of the KM handbook "Learning to Fly"



Chris Collison Knowledge Consultant



Geoff Parcell Knowledge Management Consultant



If you are interested in Knowledge Management, the

Knowledge Café

or the role of conversation in organizational life then you my be interested in this online book I am writing on

Conversational Leadership
Gurteen Knowledge Community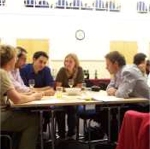 The Gurteen Knowledge Community is a global learning community of over 21,000 people in 160 countries across the world.

The community is for people who are committed to making a difference: people who wish to share and learn from each other and who strive to see the world differently, think differently and act differently.

Membership of the Gurteen Knowledge Community is free.
Knowledge Community