In his book, The Springboard he helped spark the growing international interest in storytelling for knowledge management and organizational change. His book describes how storytelling was used to introduce knowledge management into the World Bank and explains how storytelling can serve as a powerful and formal tool for organizational change and knowledge management.

Find out more about storytelling at his website.


| | |
| --- | --- |
| Google Video Search | Loading... |

New Weblog from Steve Denning
Gurteen Knowledge-Log, David Gurteen, 23 July 2004



Call people - PEOPLE - not capital!
Posted to Gurteen Knowledge-Log by David Gurteen on 12 May 2010



How do you subvert the Dilbertesque business world?
Posted to Gurteen Knowledge-Log by David Gurteen on 20 May 2010



A Leaders Guide to Storytelling (Apr 2005) by Steve Denning
Mastering the Art and Discipline of Business Narrative



Squirrel Inc (2004) by Steve Denning
A Fable Of Leadership Through Storytelling



Storytelling in Organizations (Jan 2005) by John Seely Brown, Katalina Groh

, Larry Prusak, Steve Denning
Why Storytelling Is Transforming 21st Century Organizations and Management



The Springboard (Oct 2000) by Steve Denning
How Storytelling Ignites Action in Knowledge-Era Organizations



Gurteen Knowledge-Letter: Issue 20 - 4th February 2002

Steve Denning Consultant & Author



If you are interested in Knowledge Management, the

Knowledge Café

or the role of conversation in organizational life then you my be interested in this online book I am writing on

Conversational Leadership
Gurteen Knowledge Community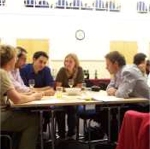 The Gurteen Knowledge Community is a global learning community of over 21,000 people in 160 countries across the world.

The community is for people who are committed to making a difference: people who wish to share and learn from each other and who strive to see the world differently, think differently and act differently.

Membership of the Gurteen Knowledge Community is free.
Knowledge Community