Spark is an experiment in collaborative working, intent on honoring the human spirit in the workplace.

Spark's clients range from BT and UBSWarburg to government agencies, international aid agencies, health centers and integrated health teams.

Their research and practice focuses on the role of story and of public and private spaces at work; on the development of sustainable communities; and on the development of all kinds of effective interfaces at work. (An interface could be a dialogue, a postcard, an exhibit, a strategy report, an audit, a guide, an event, a web design, a CD.....)

Spark was included in the inaugural BTCranfield Index of the 100 most visionary companies in the UK.

Victoria is an Honorary Research Fellow at CASS Business School and has conducted much of the research into public and private spaces at work with Professor Clive Holtham from CASS.


| | |
| --- | --- |
| Google Video Search | Loading... |

Impressions of the 2nd Gurteen Knowledge Conference 26 November 2003 by Shane Godbolt

, Tim Dee


Knowledge is not something you keep in your head, it's a behaviour



Knowledge Work and Knowledge Workers
Gurteen Knowledge-Log, David Gurteen, 23 July 2007



Call people - PEOPLE - not capital!
Posted to Gurteen Knowledge-Log by David Gurteen on 12 May 2010



Sparknow

Victoria Ward Sparknow



Would you like to learn how to run a Knowledge Café?

If so, I am running a Knowledge Café Masterclass with CILIP in central London on Thursday 1st November 2018.

You can find full information here: 

https://www.cilip.org.uk/page/KnowledgeCafe
David Gurteen

I help people to share their knowledge; to learn from each other; to innovate and to work together effectively to make a difference!
How to contact me
My Blog
Gurteen Knowledge Community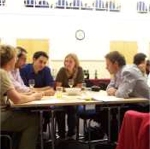 The Gurteen Knowledge Community is a global learning community of over 21,000 people in 160 countries across the world.

The community is for people who are committed to making a difference: people who wish to share and learn from each other and who strive to see the world differently, think differently and act differently.

Membership of the Gurteen Knowledge Community is free.
Knowledge Community