Below is a list of pages on this site that are associated in some way with Thailand. Click here to view other countries and their associated pages.

iKNOW magazine: Organizational Conversation
Posted to Gurteen Knowledge-Log by David Gurteen on 27 May 2014



Bangkok (Thailand)



Thailand (Asia > South-East Asia; Bangkok)



Institute for Knowledge and Innovation - South East Asia Newsletter: Scientia

Institute for Knowledge and Innovation (iKi-SEA)

King Mongkut's University of Technology Thonburi: Knowledge Management

Knowledge Management Institute Thailand

Knowledge Management Professional Center Asia (KMPCA)

Office of Knowledge Management and Development

iKnow The Magazine for Innovative Knowledge Workers : May 2014 Edition
Organizational Conversation



12th International Conference on Intellectual Capital, Knowledge Management & Organisational Learning
ICICKM 2015
05 - 06 Nov 2015, ACPIL


The Institute for Knowledge and Innovation Southeast Asia (IKI-SEA) of Bangkok, Bangkok, Thailand



Asian Symposium on Creativity & Innovation Management
From Imitation to Innovation
21 - 26 Feb 2016, IKI-SEA Institute of Knowledge & Innovation - South East Asia


W District - www.w-district.com, Bangkok, Thailand



Organizational Knowledge Sharing (OKS) Certificate Programs
Operational OKS Certificate
05 - 09 Jun 2017, IKI-SEA and World Bank


Bangkok University, Bangkok, Thailand



Perspectives on Leadership, Learning and Social Enterprise in Asia
Sharpening Focus on Research Collaborations and Publications.
25 - 27 Jul 2017, ELLTA


Asian Institute of Technology, Bangkok, Thailand



G-LINK Summit 2017
Global Leaders who Innovate next Knowledge
04 - 06 Oct 2017, IKI-SEA Bangkok University


Bangkok University, Bangkok, Thailand



6th International Conference on Management, Leadership and Governance
ICMLG 2018
24 - 25 May 2018, Gabi Campan


Bangkok University, Bangkok, Thailand



If you are interested in Knowledge Management, the

Knowledge Café

or the role of conversation in organizational life then you my be interested in this online book I am writing on

Conversational Leadership
David Gurteen

I help people to share their knowledge; to learn from each other; to innovate and to work together effectively to make a difference!
How to contact me
My Blog
Gurteen Knowledge Community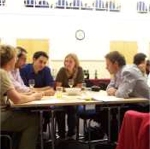 The Gurteen Knowledge Community is a global learning community of over 21,000 people in 160 countries across the world.

The community is for people who are committed to making a difference: people who wish to share and learn from each other and who strive to see the world differently, think differently and act differently.

Membership of the Gurteen Knowledge Community is free.
Knowledge Community