Sigmund Freud was born in Austria 1865. He was a physician who 'pioneered' the study of the unconscious mind. His studying stemmed from his great interest in literature, mythology and comparative religion. His work changed the way people thought about human nature. He developed methods of free association and the interpretation of dreams that are basic techniques of psychoanalysis. He also came up with the concepts known as id, ego and super ego which can be used to explain how our minds work consciously and subconsciously. He was a collector of archaeological artefacts such as ancient Egyptian statuettes. Growing up he studied medicine in Vienna and was part of a research team, which discovered local anaesthetic effects of cocaine. Many of his theories are largely drawn from case studies of his own patients also. In 1938, when Nazi's occupied Austria he fled to London where he died in 1939.


| | |
| --- | --- |
| Google Video Search | Loading... |

Extraordinary Minds (1997) by Howard Gardner


Portraits of Exceptional Individuals and an Examination of Extraordinariness



Sigmund Freud (1865 - 1939) Austrian Psychologist



On making a decision by Sigmund Freud (1865 - 1939) Austrian Psychologist



On the intelligence of a child. by Sigmund Freud (1865 - 1939) Austrian Psychologist



Quotations from Sigmund Freud:



When making a decision of minor importance, I have always found it advantageous to consider all the pros and cons. In vital matters, however, such as the choice of a mate or a profession, the decision should come from the unconscious, from somewhere within ourselves. In the important decisions of personal life, we should be governed, I think, by the deep inner needs of our nature.

Sigmund Freud, (1865 - 1939) Austrian Psychologist
---

What a distressing contrast there is between the radiant intelligence of the child and the feeble mentality of the average adult.

Sigmund Freud, (1865 - 1939) Austrian Psychologist
---
If you are interested in Knowledge Management, the
Knowledge Café
or the role of conversation in organizational life then you my be interested in this online book I am writing on
Conversational Leadership
David Gurteen

I help people to share their knowledge; to learn from each other; to innovate and to work together effectively to make a difference!
How to contact me
My Blog
Gurteen Knowledge Community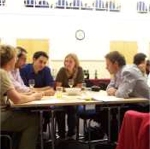 The Gurteen Knowledge Community is a global learning community of over 21,000 people in 160 countries across the world.

The community is for people who are committed to making a difference: people who wish to share and learn from each other and who strive to see the world differently, think differently and act differently.

Membership of the Gurteen Knowledge Community is free.
Knowledge Community