This is a thought-provoking book on what makes the kind of extraordinary person who changes the way we think, listen, write or view the world.

It looks at the lives and works of four extraordinary individuals: Wolfgand Amadeus Mozart, Sigmund Freud, Virginia Woolf and Mahatma Gandhi.

Howard Gardiner presents four types of extraordinary minds that he calls Master, Maker, Introspector, and Influencer. He then provides an example for each Mozart, Freud, Woolf, and Gandhi respectively.




Video Playlist: Stephen Covey







You will find information on over 200 books on this website - books that relate to the themes of the site: knowledge, learning, creativity, innovation and personal development.

If you would like to receive an e-mail alert whenever I post information about a new book (i.e. one that has been published in the last 12 months) then please click on the button below and complete the form.



Gandhi and storytelling
Gurteen Knowledge-Log, David Gurteen, 14 April 2003



Extraordinary Minds (1997) by Howard Gardner


Portraits of Exceptional Individuals and an Examination of Extraordinariness



If you are interested in Knowledge Management, the

Knowledge Café

or the role of conversation in organizational life then you my be interested in this online book I am writing on

Conversational Leadership
Gurteen Knowledge Community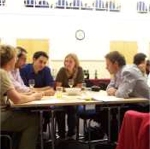 The Gurteen Knowledge Community is a global learning community of over 21,000 people in 160 countries across the world.

The community is for people who are committed to making a difference: people who wish to share and learn from each other and who strive to see the world differently, think differently and act differently.

Membership of the Gurteen Knowledge Community is free.
Knowledge Community