Gurteen Knowledge Letter: Issue 239 - May 2020Contents
Introduction to the May 2020 Knowledge Letter
I would like to let you know about two Conversational Leadership events coming up.
First, I have a Zoom Knowledge Café - an Introduction to Conversational Leadership on Friday 19 June 2020. I am calling this a Knowledge Café though it is a Café on steroids - consisting of two separate Cafés and far more content from me than in a regular Café.
You can
learn more and register on Eventbrite
.
Secondly, if you wish to explore Conversational Leadership in more depth, John Hovell and Donita Volkwijn are running a 5-day online workshop on Conversational Leadership August 3 - 5. I am not directly involved in this workshop but am looking forwards to making a guest appearance to run a Knowledge Café.
Once again you can
learn more and register on Eventbrite
.
If you wish to learn more about Conversational Leadership before booking on either event then this might be
a good starting place
.
Benjamin Franklin's Junto Club Rules
I have talked in the past about
Benjamin Franklins Junto Club
. It's a lovely concept that is still around today in the form of
Franklin Circles
.
To qualify as a member of his club, each person was asked to stand up and lay his hand on his breast, and answer the following questions as indicated.
Have you any particular disrespect to any present members? Answer. I have not.
Do you sincerely declare that you love mankind in general; of what profession or religion soever? Answer. I do.
Do you think any person ought to be harmed in his body, name or goods, for mere speculative opinions, or his external way of worship? Answer. No.
Do you love truth's sake, and will you endeavor impartially to find and receive it yourself and communicate it to others? Answer. Yes.
I rather like these questions, and they could quite easily form the backbone for a modern-day conversation or conversational club.
I plan at some point to re-write them in modern-day English. I may even change them or add to them a little. One candidate question, suggested by Andrew Gaines is:
Do you agree to have your ideas challenged without rancour?
I would go further and say:
Do you love to have your ideas challenged?
Andrew's response to this though was that "without rancour' would be a pretty good start!
I have started a thread on this topic in my
Conversational Leadership Forum
on LinkedIn - join the conversation and leave some suggestions there.
Changing your mind and the minds of others
I love the work of
Julia Galef
. I found her some time ago when I was researching the concept of
conversing in good faith
.
I came across her again the other day in a TEDx talk talking about what she called
Scout Mindset
- an alternative term for
Science Curiosity
.
And then I found a
blog post
explaining why she engages in online arguments with people, even if there's no real hope of changing their minds:
To change the minds of less committed onlookers.
To give relief and comfort to onlookers who share your view and wish someone would stick up for it.
To set an example of "sharing one's opinion even if it's controversial", a valuable norm to reinforce even if you don't exchange anyone's mind on that particular issue.
To set an example of "polite and reasonable argumentation" again a valuable norm in its own right.
She tweeted this originally and was challenged on these points and asked: "You didn't mention the motivation of changing your own mind. Shouldn't you always be approaching arguments with open-minded curiosity, motivated by a desire to learn?"
And this was her fascinating response:
I think that "trying to change your mind" is a great goal we should be striving for, but that most debates have a pretty low probability of succeeding at that, and we shouldn't pretend otherwise. Here are some examples to illustrate the difference: 1) Arguments I engage with in hopes of changing my own mind

Arguments that sound wrong, but the person making them seems smart and intellectually honest, so maybe I'm missing something
Arguments that sound wrong but were shared approvingly by people whose judgment I respect
Novel arguments I haven't heard before, that sound wrong on first pass but are interesting and worth considering more

2) Arguments I probably just wouldn't bother with, if my main goal was changing my own mind

Arguments I've already heard a bunch of times
Arguments that seem obviously fallacious, and there's nothing promising about the source to suggest I might be missing something
Arguments by someone who gives signs of being a bad thinker. For example, if they're being rude and twisting other people's words uncharitably, that's not an encouraging sign that I can learn from them
Arguments by people who don't share some of my core premises (like, I'm secular and they're making a religious argument about ethics)



This thinking overlaps somewhat with this post in my blook on
disagreeing constructively.
Conversational Leadership Blook Update May 2020
My blook continues to grow and develop by the day. If you have not checked it out for a while, you will find the
latest changes here
.
I tend to jump around and develop different parts of the blook as my mood and energy takes me. One chapter under development right now is on what I am calling
The Knowledge Delusion
.
This is quite a wide ranging chapter and includes posts on beliefs, values, the illusion of knowledge, tribal thinking, distributed cognition, motivated reasoning, science curiosity, the global information ecosystem, sense-making and much more.
One post is a video talk by Daniel Schmachtenberger where he explores
The War on Sensemaking
. This video is almost 2 hours in length but packed with interesting material and I wished to index it. Given I was a programmer in a former existence has helped me with this - I have now indexed the key sections of the talk and a single click will take you to any one of them. Go take a look and enjoy! It's an amazing talk.
Finally, I have listed a set of what I call
gateway pages
- alternative starting points to reading my blook. To my mind, technical books are never best read serially
Aftershocks and opportunities Scenarios for a post pandemic world
My good friend,
Sheila Moorcroft
recently let me know about a forthcoming book
Aftershocks and opportunities Scenarios for a post pandemic world
for which she has written a short chapter.
The book has been put together in the last 6 weeks by people who are involved in foresight, and looks at the changes that may emerge in a post Covid-19 world – there are about 27 short chapters, under four separate headings:
Critical shifts
Society and Social Policy
Government and Economy
Business and Technology
The aim is to raise questions, indicate new directions, opportunities and issues as we emerge into a new normal.
On the 1st June launch date, authors will present their chapters throughout the day, and answer questions. Both of these are free. If you are interested visit the
Fast Future website
.
Conversational Leadership Framework
John Hovell
recently
posted an item on Linkedin
about a possible Conversational Leadership framework and a discussion has started.
In past months, John and I have spent many hours talking about this framework and neither of us is happy with it. It's a starting point for discussion. Here are a few thoughts of mine.
To shape up this framework, we need to first define the purpose. What is it meant to depict? How is it intended to help? What is the question it answers? Does a framework even make sense?
I feel we have put a lot of things in boxes and are trying to connect them in some sort of linear/logical manner but as John points out above, is it even possible to "map" such a complex topic in such a structured way. My answer is "No, we can't but then what can we do, if anything?." So my key question for anyone reading this. Do we need a Conversational Leadership framework and if so, what should be the purpose?
Go take a look,
join the conversation
.
Disaster Information Seeking Behaviour via Social Media
Bibi Alajmi, an Associate Professor in the Department of Information Studies at the College of Social Sciences, Kuwait University, is conducting research into "Disaster Information Seeking Behaviour via Social Media". She has asked me if I can help find people who would be willing to complete a short survey on the subject. Here is what she has to say:
We are conducting a research aiming to investigate factors that are believed to influence individuals' reliance on social media networks (e.g., Facebook, Twitter, YouTube, etc.) for information that could be helpful in coping with disasters such as the Coronavirus pandemic.

I would like to invite you to participate in the following survey which takes approximately 10 minutes to complete.

Your participation is highly appreciated. Collected data will be anonymously and collectively used only for research purposes. No individual cases will be reported.

Bibi Alajmi, Ph.D.
Associate Professor
Department of Information Studies
College of Social Sciences, Kuwait University
P.O. Box.68168 Kaifan - 71962. Kuwait
I hope you can find a few minutes to help her.
You will find the survey here:
Disaster Information Seeking Behavior Survey
A podcast conversation with Edwin Morris
Edwin Morris of Pioneer Knowledge Services recently conducted a short interview with me: "The new way we toil and labor; how knowledge management is changing the interplay between society and the on ramp to work life. David Gurteen shares his view from the UK."
You can listen to the
podcast here
. I am in good company, and you find many more
interesting podcasts with KM people here
.
Gurteen Knowledge Tweets: May 2020
Here are some of my more popular recent tweets. Take a look, if you are not a Tweeter, you will get a good idea of how I use it by browsing the list of micro-posts.
If you like the Tweets then
subscribe to my Tweet stream
.
Upcoming Knowledge Events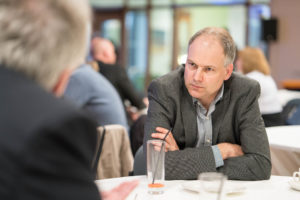 Here are some of the
major KM events
taking place around the world in the coming months and ones in which I am actively involved. You will find a
full list
on my website where you can also subscribe to both regional e-mail alerts and
RSS feeds
which will keep you informed of new and upcoming events.
I'm not so sure if some of these events will still take place and several may go online but I have listed them anyway.
Innovation During Adversity - Summer Virtual Workshop
Wed 17 Jun 2020, United Kingdom
Introduction to Conversational Leadership
Fri 19 Jun 2020, United Kingdom
TAKE 2020 - Theory and Applications on the Knowledge Economy
01 - 03 Jul 2020, Sttutgart, Germany
7th European Conference on Social Media
02 - 03 Jul 2020, Larnaca, Cyprus
Conversational Leadership Workshop
03 - 07 Aug 2020, United States
10th Knowledge Management International Conference
17 - 19 Aug 2020, Kuala Lumpur, Malaysia
21st European Conference on Knowledge Management
03 - 04 Sep 2020, Coventry, United Kingdom
15th European Conference on Innovation and Entrepreneurship
17 - 18 Sep 2020, Rome, Italy
17th International Conference on Intellectual Capital, Knowledge Management & Organisational Learning
15 - 16 Oct 2020, Toronto, Canada
16th European Conference on Management Leadership and Governance
26 - 27 Oct 2020, Oxford, United Kingdom
19th European Conference on e-Learning
29 - 30 Oct 2020, Berlin, Germany
The 10th International Conference on Innovation and Knowledge Management in Asia Pacific
03 - 04 Dec 2020, Sydney, Australia
Twenty-first International Conference on Knowledge, Culture, and Change in Organizations
15 - 16 Jan 2021, Auckland, New Zealand
Unsubscribe
If you no longer wish to receive this newsletter then please reply to this email with "no newsletter" in the subject line.
The Gurteen Knowledge Letter
The Gurteen Knowledge-Letter is a free monthly e-mail based KM newsletter for knowledge workers. Its purpose is to help you better manage your knowledge and to stimulate thought and interest in such subjects as Knowledge Management, Learning, Creativity and the effective use of Internet technology.
Archive copies
are held on-line where you can
register
to receive the newsletter.
It is sponsored by the
Henley Forum
of the Henley Business School, Oxfordshire, England.
You may copy, reprint or forward all or part of this newsletter to friends, colleagues or customers, so long as any use is not for resale or profit and I am attributed. And if you have any queries please
contact me
.
David GURTEEN
Gurteen Knowledge
Fleet, United Kingdom