Gurteen Knowledge Letter: Issue 230 - August 2019Contents
Introduction to the August 2019 Knowledge Letter
Registration for the Conversational Leadership workshop is now almost closed and John, Nancy and I are putting the finishing touches to the workbook.
We have been asked to submit the full list of participants to the venue by end of day Friday (30 August) but can stretch it a few days to early next week. So this is really your final opportunity to join us.
You can
learn more and register here
.
John Hagel
I have
several profiles of people
who are influencing my work on Conversational Leadership in my blook. John Hagel is one you might find particularly interesting,
John Hagel is a management consultant and author who specializes in helping executives to anticipate and address emerging business opportunities and challenges. He is the founder and co-chairman of Deloitte's Center for the Edge.
I don't know John but I love his work, especially his blog posts (see this post on
spirit set
), not only is he extraordinary insightful but each week, he tweets several links to fascinating scientific discoveries or research.
You can find out more about him, follow him on Twitter or subscribe to his RSS blog feed
here
.
The KM Cookbook
My good KM colleagues and friends Chris Collison, Paul Corney and Patricia Eng have been busy on a new book that has just been published:
The KM Cookbook: Stories and strategies for organisations exploring Knowledge Management Standard ISO30401
.
It is an excellent book on KM as unlike many books that are theoretical, this one is a very practical "cook book". It is in two parts.
Part I of the book explores knowledge management programmes using the metaphor of the restaurant, introducing the restaurateur (sponsor), customers (organisation), chef (KM leader), staff (KM team and external support), ingredients (tools, methods, processes and strategies) and the restaurant critic (external auditor).
Part II is where you get to meet sixteen chefs from around the world and listen to them tell their stories. The authors have deliberately used a narrative-style for these chapters which comprise the largest part of the 300+ pages.
I really do love the format.
Conversational Leadership myths
As I give more and more talks, presentations and webinars about Conversational Leadership, I am receiving some great feedback but encountering a number of misconceptions as to what it is all about. (Thanks to all of you who took part in my recent
London Knowledge Café
on the subject for all your comments).
I have listed and responded to
eight of these myths
in my blook. I am sure I will need to add more over the coming months.
The Power of Creative Conversation video course
My new friends Peter Osborn and Eddy Canfor-Dumas who recently published the book
The Talking Revolution
have now created a Udemy video course on the
Power of Creative Conversation
.
This is how they describe the course:
This series of videos and real-life exercises will enable you to connect with people more effectively in a wide range of situations, through understanding, clarity and respect. Whether it's with loved ones, friends, colleagues, neighbours - even strangers - bit by bit, as your communication habits change for the better, so will your human network, your relationships - and your world.
If you would like to learn how your communication habits - good and bad - shape your world and much more, then go take a look, I think you will enjoy it.
So you thought you understood information
This is what Wikipedia says about
Information
and did you know you could
convert information into energy
?
I have some more reading and thinking to do. I don't know about you!
Please help support my work
I have been writing and publishing this Knowledge Letter every month for over 17 years and most of you have been receiving it for 5 years or more. My Knowledge Café also had its 16th birthday last September.
If you enjoy my work and find it valuable, please consider giving me a little support by donating $1 (or more) a month to
Become a Patron
or making small one off contribution.
I am not going to get rich on this but it will help cover some of my website hosting expenses.
I have 49 patrons so far. A big thanks to you all.
Knowledge Sharing is only one component of Knowledge Management
Many people prefer to use the term "Knowledge Sharing" instead of "Knowledge Management". However as a synonym "Knowledge Sharing" is inadequate and misleading


This is an excellent blog post from Nick Milton and a must read for all new KMers.
I have always been a little shocked when people tell me they don't like the term Knowledge Management and so have named their KM activities Knowledge Sharing - there is so much more to KM (or there should be) than merely sharing knowledge. Here is another critical issue to add to Nick's list.:-)
I think "knowledge management" is a bull**** issue.

Let me tell you why. I can give you perfect information, I can give you perfect knowledge and it won't change your behavior one iota.

People choose not to change their behavior because the culture and the imperatives of the organization make it too difficult to act upon the knowledge.

Knowledge is not the power. Power is power. The ability to act on knowledge is power.

Most people in most organizations do not have the ability to act on the knowledge they possess.

End of story.


What Michael says here really only refers to knowledge sharing and not KM!
Gurteen Knowledge Tweets: August 2019
Here are some of my more popular recent tweets. Take a look, if you are not a Tweeter, you will get a good idea of how I use it by browsing the list of micro-posts.
If you like the Tweets then
subscribe to my Tweet stream
.
Upcoming Knowledge Events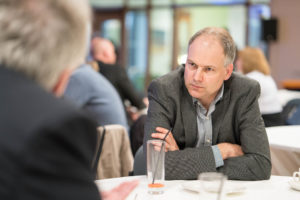 Here are some of the
major KM events
taking place around the world in the coming months and ones in which I am actively involved. You will find a
full list
on my website where you can also subscribe to both regional e-mail alerts and
RSS feeds
which will keep you informed of new and upcoming events.
20th European Conference on Knowledge Management
05 - 06 Sep 2019, lisbon, Portugal
14th European Conference on Innovation and Entrepreneurship
19 - 20 Sep 2019, Kalamata, Greece
Conversational Leadership Workshop
20 - 22 Sep 2019, Hartley Wintney, United Kingdom
Advancing your OD (Organisation Development) practice
24 - 25 Sep 2019, Henley on Thames, United Kingdom
Innovations in Singapore Conference
Tue 24 Sep 2019, Singapore City, Singapore
European Conference on the Impact of Artificial Intelligence and Robotics
31 Oct - 01 Nov 2019, Oxford, United Kingdom
16th International Conference on Intellectual Capital, Knowledge Management & Organisational Learning 5-6 December 2019, Sydney, Australia
05 - 06 Dec 2019, Sydney, Australia
Unsubscribe
If you no longer wish to receive this newsletter then please reply to this email with "no newsletter" in the subject line.
The Gurteen Knowledge Letter
The Gurteen Knowledge-Letter is a free monthly e-mail based KM newsletter for knowledge workers. Its purpose is to help you better manage your knowledge and to stimulate thought and interest in such subjects as Knowledge Management, Learning, Creativity and the effective use of Internet technology.
Archive copies
are held on-line where you can
register
to receive the newsletter.
It is sponsored by the
Henley Forum
of the Henley Business School, Oxfordshire, England.
You may copy, reprint or forward all or part of this newsletter to friends, colleagues or customers, so long as any use is not for resale or profit and I am attributed. And if you have any queries please
contact me
.
David GURTEEN
Gurteen Knowledge
Fleet, United Kingdom