Gurteen Knowledge Letter: Issue 228 - June 2019Contents
Introduction to the June 2019 Knowledge Letter
Five years ago, I started out on a journey to explore the concept of Conversational Leadership, and a few of you may recall a London Knowledge Cafe that I ran at Westminster Business School in March 2014 on the subject.
I have come along way since then and not only is
my blook on Conversational Leadership
well established,
Nancy Dixon
,
John Hovell
and I have been working closely together to develop further the ideas that underpin Conversational Leadership - so much so that we are
running a three-day workshop on Conversational Leadership in September
.
Conversational Leadership is an emerging discipline, a little like KM some 25 years ago. The
first reference
I can find to the term was as recent as 2007, and the definition of Conversational Leadership and its scope and definition can somewhat vary. Here is my
current working definition
:
Conversational Leadership is about recognizing the extraordinary but underutilized power of face-to-face conversation and adopting a conversational approach to the way in which we live and work together.
As a five-year celebration, John Hovell and I will be jointly running another Knowledge Café on the subject in July, so if the journey isn't too long (and I know it will be for most of you) come join us on Wednesday, July 10th at Westminster Business School for a conversation all about conversation. See here for
more details and registration
.
The Paradox of Connection
We are becoming more connected with each other and less connected with each other at the same time. How do we turn this trend around? This is what
John Hagel
has to say about the paradox.
We have the ability to connect with more and more people around the world, but our emotions are undermining our ability to make deeper and more fulfilling connections that can help all of us to achieve more of our potential.

There's a vicious cycle under way that continues to erode our ability to make connections that matter – the more fear we feel, the less likely we are to trust others and that leads to a growing sense of isolation which in turn feeds the fear, leading to even less trust and the cycle continues.

While this emotion is understandable, it's preventing us from harnessing the potential that's created by the ability to connect with others more broadly and more deeply.

We need to embrace opportunity-based narratives and the passion of the explorer to turn this around and, for the first time, discover the enormous power that comes from broader and deeper connections.


Calling all Oracy advocates
Calling all Oracy advocates in the UK, if you have any evidence as to the impact of oracy in your setting - written or video - please
submit it
to the Oracy APPG (Oracy All-Party Parliamentary Group). The deadline for written evidence is 9th August 2019.
Numeracy: the ability to understand and work with numbers.


Literacy: the ability to read and write.


Oracy: the ability to express oneself in and understand spoken language.
I am so pleased to see the increase in interest in
oracy
.
Leadership is a practice not a position of authority
I have been thinking and reading about leadership for some years now, especially
leadership in the context of Conversational Leadership
but only recently learned of the work of Ronald Heifetz at Harvard and discovered that his views on leadership were remarkably similar to mine.
In this
video
he explains that leadership is a practice not a position of authority and gives some excellent examples.
Distinguishing leadership from authority helps us begin to see that if we understand leadership as a practice, as an activity, then it becomes available to anybody high or low, any place or position simply because they passionately care about some problem situation, about the people in that problem situation and then mobilize people with faith in their capacity to step up to the plate and meet that challenge.


Could "Conversational Leadership" Avert Deeply Troubling Times Ahead?
As I hope you know by now
Nancy Dixon
,
John Hovell
and I have been working closely together to develop the ideas that underpin Conversational Leadership and are
running a three-day workshop on Conversational Leadership
in September.
I am finding this collaborative effort of enormous value, John, Nancy and I are different people, with different skill sets and a different focus on the subject of conversation. This diversity has made for some engaging, creative discussions at times, and slowly, we are shaping our thoughts together.
John has recently published this article on Linkedin:
Could "Conversational Leadership" Avert Deeply Troubling Times Ahead?
which explains Conversational Leadership in a style that is somewhat different from mine, including thoughts and ideas that I have yet to think or write about myself. I love the post, and it has really provoked my thinking. I hope you enjoy it too.
It is through conversation that each of us can partner and understand each other in a deeper, more meaningful way.

We can try to make sense of the complexity and chaos around us through conversation.


To have a conversation, you have to be comfortable being human
I have long been a huge fan of David Weinberger. Read more about him
here and watch the video
. He is such an amazing thinker. In particular, I love his insights into conversation such as the one below.
To have a conversation, you have to be comfortable being human - acknowledging you don't have all the answers, being eager to learn from someone else and to build new ideas together.

You can only have a conversation if you're not afraid of being wrong. Otherwise, you're not conversing, you're just declaiming, speechifying, or reading what's on the PowerPoints. To converse, you have to be willing to be wrong in front of another person.

Conversations occur between equals. The time your boss's boss asked you at a meeting about your project's deadline was not a conversation. The time you sat with your boss for an hour in the Polynesian-themed bar while on a business trip and you really talked, got past the corporate bullshit, told each other the truth about the dangers ahead, and ended up talking about your kids - that maybe was a conversation.


Can you have these sorts of conversation in your organization?
The Henley Forum 2020 Awards
Just a reminder about the
Henley Forum 2020 Awards
.
The awards recognise those who are advancing organisational practice. The Henley Forum would like to hear from people who are working to develop dynamic capability though knowledge, learning, change and innovation work. For example, by:
enabling knowledge to flow
fostering organisational learning
facilitating organisational change and development
cultivating innovation
and collaborating across boundaries.
These prestigious awards will recognise practitioners who are working to advance knowledge, learning and change practice in their organisations, and the people whose thinking has most influenced them. Awards will be presented at The 20th Annual Henley Forum Conference on 05 - 06 February 2020. You can
apply here
.
Please help support my work
I have been writing and publishing this Knowledge Letter every month for over 17 years and most of you have been receiving it for 5 years or more. My Knowledge Café also had its 16th birthday last September.
If you enjoy my work and find it valuable, please consider giving me a little support by donating $1 (or more) a month to
Become a Patron
or making small one off contribution.
I am not going to get rich on this but it will help cover some of my website hosting expenses.
I have 48 patrons so far. A big thanks to you all.
Gurteen Knowledge Tweets: May 2019
Here are some of my more popular recent tweets. Take a look, if you are not a Tweeter, you will get a good idea of how I use it by browsing the list of micro-posts.
If you like the Tweets then
subscribe to my Tweet stream
.
Upcoming Knowledge Events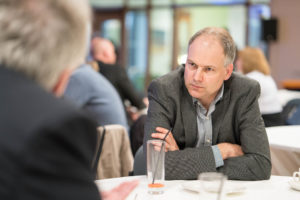 Here are some of the
major KM events
taking place around the world in the coming months and ones in which I am actively involved. You will find a
full list
on my website where you can also subscribe to both regional e-mail alerts and
RSS feeds
which will keep you informed of new and upcoming events.
TAKE 2019
03 - 05 Jul 2019, Vienna, Austria
Why is conversation so damned important?
Wed 10 Jul 2019, London, United Kingdom
20th European Conference on Knowledge Management
05 - 06 Sep 2019, lisbon, Portugal
14th European Conference on Innovation and Entrepreneurship
19 - 20 Sep 2019, Kalamata, Greece
Conversational Leadership Workshop
20 - 22 Sep 2019, Hartley Wintney, United Kingdom
Advancing your OD (Organisation Development) practice
24 - 25 Sep 2019, Henley on Thames, United Kingdom
European Conference on the Impact of Artificial Intelligence and Robotics
31 Oct - 01 Nov 2019, Oxford, United Kingdom
16th International Conference on Intellectual Capital, Knowledge Management & Organisational Learning 5-6 December 2019, Sydney, Australia
05 - 06 Dec 2019, Sydney, Australia
Unsubscribe
If you no longer wish to receive this newsletter then please reply to this email with "no newsletter" in the subject line.
The Gurteen Knowledge Letter
The Gurteen Knowledge-Letter is a free monthly e-mail based KM newsletter for knowledge workers. Its purpose is to help you better manage your knowledge and to stimulate thought and interest in such subjects as Knowledge Management, Learning, Creativity and the effective use of Internet technology.
Archive copies
are held on-line where you can
register
to receive the newsletter.
It is sponsored by the
Henley Forum
of the Henley Business School, Oxfordshire, England.
You may copy, reprint or forward all or part of this newsletter to friends, colleagues or customers, so long as any use is not for resale or profit and I am attributed. And if you have any queries please
contact me
.
David GURTEEN
Gurteen Knowledge
Fleet, United Kingdom