Gurteen Knowledge Letter: Issue 223 - January 2019Contents
Introduction to the January 2019 Knowledge Letter
I am continuing to work on my blook on Conversational Leadership and you will find a
list of new posts and updates here
. Keep in mind it is work in progress and much of it changes by the day. Currently I am trying to boil down the concept to a small set of principles that covers its scope and that is proving difficult as it is about more than just conversation and leadership :-) A big thanks to the few of you who have been giving me feedback and helping me on this.
If you are a reader of my blook or have an interest in Conversational Leadership I have also recently created
a group on LinkedIn
to discuss both my blook and the topic in general.
I hope to meet a few of you there!
Crowds within crowd outperform 'wisdom of the crowd'
You will no doubt have heard of the "wisdom of crowds" in which individuals in a crowd are privately asked to give an answer to a question, such as how many jelly beans are in a jar and that when the answers are averaged together, the answer given by the crowd is generally better than for any given individual.
Well, this paper
Aggregated knowledge from a small number of debates outperforms the wisdom of large crowds
explores alternative methods and suggests an improved process.
By dividing the crowd into small groups of five, and having the five small groups discuss the question come to a consensus, that is then averaged produces better results than the average produced by the large crowd.
To my mind, the research lends support to the idea that the Knowledge Café can make an effective
collective sensemaking tool
, though there is clearly a big divide between estimating the number of jelly beans in a jar and coming up with an effective response to a complex business or social problem.
Find a Chatty Café near you
I wrote recently about
stammtisch tables
- "tables for conversation with those sitting near you whether you know them or not" and someone replied to tell me about the
Chatty Café scheme
.
Sit at a Chatter & Natter table

A Chatter & Natter table is where customers can sit if they are happy to talk to other customers.

We are looking for supermarket cafes, community cafes, large and small cafes to get involved so that just maybe we can make the Chatter & Natter table a part of everyday café culture.

A Chatter & Natter table brings people together and everyone is invited! If you're on your own, in a couple, with a friend, if you're a carer why not sit there with who you care for, mums and babies, dads and babies, grandparents and babies, young people, older people and anyone in between!

When you are deciding where to sit, look for the Chatter & Natter table and sit there! Stay for five minutes while you have your drink or longer. It's not about making friends, just having good old fashioned human interaction!


A stammtisch table with a more catchy name! What a great idea! So good in fact that
Costa Coffee has taken it up
.
While on the topic of conversations with strangers in public places - my good friend Alan Stewart is doing some great work in Adelaide, Australia with his
Conversare Events
. We need more of these social initiatives.
Henley Forum Annual Conference 06 - 07 March 2019
This year's Henley Forum Annual Conference (it's the 19th!) takes place 06 - 07 March 2019 at Henley Business School
Amplifying our practice: leading the way with knowledge
.
I usually attend this conference every year and will be there again this year. To my mind, it is the best KM conference by far, both in terms of speakers, content and interactivity. The location on the banks of the river Thames is also hard to beat.
You don't need to be a member of the forum to attend. If you are interested in joining contact Marina Hart - her details are on the webpage linked to above.
If you are not familiar with the Henley Forum and the amazing research work that they do - go take a look at their
Knowledge in Action Leaflets
- 38 x three or four page downloadable reports on a wide range of topics from "Improving conversations to enable effective knowledge sharing" to "Embedding change".
How culture drove human evolution
Every so often I come across a fascinating article or blog post that has a major impact on how I see the world. This is one such article - an interview with Joseph Henrich, an anthropologist and Professor of Psychology and Economics.
Part of his program of research is to convince people that they should stop distinguishing cultural and biological evolution as separate and we need to think of it all as biological evolution. He has begun to pursue the idea that he calls the cultural brain hypothesis -- that the real driver in the expansion of human brains was a growing cumulative body of cultural information.
An example he gives is of fire and cooking. This is what he says:
Fire and cooking have been important selection pressures, but what often gets overlooked in understanding fire and cooking is that they're culturally transmitted -- we're terrible at making fires actually. We have no innate fire-making ability.

But once you got this idea for cooking and making fires to be culturally transmitted, then it created a whole new selection pressure that made our stomachs smaller, our teeth smaller, our gapes or holdings of our mouth smaller, it altered the length of our intestines. It had a whole bunch of downstream effects.


Fascinating, slowly but surely, we are making better sense of how we evolved to be what we are today. I'd love to come back in 100,000 years time and see how evolution has further shaped us - of course if the human race has not long become extinct!
Please help support my work
I have been writing and publishing this Knowledge Letter every month for over 17 years and most of you have been receiving it for 5 years or more. My Knowledge Café also had its 16th birthday last September.
If you enjoy it and find it valuable, please consider giving me a little support by donating $1 (or more) a month to
Become a Patron
.
I am not going to get rich on this but it will help cover some of my website hosting expenses.
I have 45 patrons so far. A big thanks to you all.
The importance of the freedom of speech
It is just over 2 years ago that I wrote about
Jordan Peterson
and his passionate defence of the freedom of speech. In those 2 years, he has managed to establish himself firmly as a
controversial figure
.
Since then I have added a video of his stream of consciousness description and defense of "free speech" and the transcript to my blook in a
post on freedom of speech
.
Go take a look, what ever you think of him (there are highly polarised views) what he says about freedom of speech I think is so important.
I love the way above that he describes how free speech works – a sort of "group thinking out loud" in pursuit of a better understanding of the world and ourselves - a major part of what KM and Conversational Leadership are all about.
Gurteen Knowledge Tweets: January 2019
Here are some of my more popular recent tweets. Take a look, if you are not a Tweeter, you will get a good idea of how I use it by browsing the list of micro-posts.
"When was the last transformative conversation you had?" https://buff.ly/2EuVVvX #ConversationalLeadership

Why Tone (of Voice) Matters - ConversationSpace https://buff.ly/2QP4nfM #ConversationalLeadership

Stephen Hawking short video: For millions of years, mankind lived just like the animals. Then something happened which unleashed the power of our imagination. We learned to talk. We learned to listen. https://buff.ly/2QGItet #ConversationalLeadership

Work is interaction - @EskoKilpi https://buff.ly/2KgoMIN #ConversationalLeadership

Strengthening the conversational skills of leaders is the first step to enabling organisations to thrive, say Sara Hope and Chloe Walton https://buff.ly/2D0kVgZ #ConversationalLeadership

StoryMaking & StoryShaping in a Divided World https://buff.ly/2LyuLI4 #ConversationalLeadership


The notion that our lives succeed or fail on conversation one at a time is at once commonsensical and revolutionary. - Ken Blanchard https://buff.ly/2QgRsYK #KM #KMers #KnowledgeManagement #ConversationalLeadership
If you like the Tweets then
subscribe to my Tweet stream
.
Upcoming Knowledge Events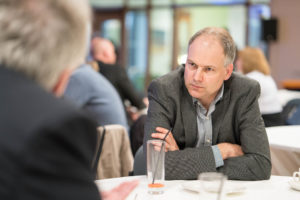 Here are some of the
major KM events
taking place around the world in the coming months and ones in which I am actively involved. You will find a
full list
on my website where you can also subscribe to both regional e-mail alerts and
RSS feeds
which will keep you informed of new and upcoming events.
Learning & Development Executive Summit 2019
03 - 05 Feb 2019, Orlando, FL, United States
How do you feel about fear?
Tue 05 Feb 2019, London, United Kingdom
Henley Forum annual conference
06 - 07 Mar 2019, Henley on Thames, United Kingdom
CII Knowledge Summit 2019
07 - 08 Mar 2019, Bangalore, India
KM Showcase 2019: Beyond the Theory
04 - 05 Apr 2019, Arlington, VA, United States
24th Annual Knowledge Management Conference
29 Apr - 03 May 2019, Houston, United States
10th European Conference on Intangibles and Intellectual Capital
23 - 24 May 2019, Pescara, Italy
Social Now 2019
06 Jun 2019 - 07 Jun 2017, Lisbon, Portugal
Chief Learning Officers & Influencers Forum, Spring
11 - 13 Jun 2019, Scottsdale, United States
6th European Conference on Social Media
13 - 14 Jun 2019, Brighton, United Kingdom
TAKE 2019
03 Jul - 05 Jan 2019, Vienna, Austria
20th European Conference on Knowledge Management
05 - 06 Sep 2019, lisbon, Portugal
14th European Conference on Innovation and Entrepreneurship
19 - 20 Sep 2019, Kalamata, Greece
Unsubscribe
If you no longer wish to receive this newsletter then please reply to this email with "no newsletter" in the subject line.
The Gurteen Knowledge Letter
The Gurteen Knowledge-Letter is a free monthly e-mail based KM newsletter for knowledge workers. Its purpose is to help you better manage your knowledge and to stimulate thought and interest in such subjects as Knowledge Management, Learning, Creativity and the effective use of Internet technology.
Archive copies
are held on-line where you can
register
to receive the newsletter.
It is sponsored by the
Henley Forum
of the Henley Business School, Oxfordshire, England.
You may copy, reprint or forward all or part of this newsletter to friends, colleagues or customers, so long as any use is not for resale or profit and I am attributed. And if you have any queries please
contact me
.
David GURTEEN
Gurteen Knowledge
Fleet, United Kingdom