Gurteen Knowledge Letter: Issue 210 - December 2017Contents
Introduction to the December 2017 Knowledge Letter
The December issue of my newsletter is always the shortest one of the year. This year is no exception - not helped by the fact that I am in bed with a cold.
For those of you who celebrated Christmas I hope you have had a wonderful time. And to all of you regardless of your faith, here's wishing you a happy and prosperous New Year.
Getting your head around the Cynefin Framework
Some years ago,when I first started to learn about Dave Snowden's Cynefin Framework, it took me a little while to wrap my head around it as there were never any good examples given of the different types of problems associated with each domain.
If you have the same problem, take a look at this excellent article
The Cynefin framework: applying an understanding of complexity to medicine
. You don't have to understand too much about medical practice to make sense of it and it really does bring the Cynefin model to life and demonstrate its usefulness in thinking about problems and decision making.
In our increasingly complex world, I think everyone should have a grasp of the Cynefin framework. So, take a look if you are not familiar with it or wish to understand it better.
PS. If you are a game player, you may find
this explanation
more readable.
What is the difference between responsibility and accountability?
In writing my
blook on Conversational Leadership
, I often find myself researching and defining the meaning of words or concepts and their nuances.
For example, we use the words responsibility and accountability loosely in everyday language, but what is the difference?
This is my
best attempt
so far in answering that question. But in summary:
We can only choose to take responsibility for something. No one else can assign responsibility to us.

We take responsibility but are held accountable.
Any feedback you may have is most welcome.
The correct analogy for the mind is not a vessel that needs filling, but wood that needs igniting
Whether it is our educational systems or the presentations we give at conferences, we focus far too much on filling people's heads with content. It is not an effective way of teaching. We need to inspire people to learn for themselves, not attempt to fill their heads with stuff.
Plutarch understood this, almost 2,000 years ago when he said:
The mind is not a vessel to be filled but a fire to be kindled.
You are probably familiar with this quotation but actually it is a popular contraction of what he really said, here is a translation of the original text in context.
The correct analogy for the mind is not a vessel that needs filling, but wood that needs igniting -- no more -- and then it motivates one towards originality and instills the desire for truth.

Suppose someone were to go and ask his neighbors for fire and find a substantial blaze there, and just stay there continually warming himself: that is no different from someone who goes to someone else to get to some of his rationality, and fails to realize that he ought to ignite his own flame, his own intellect, but is happy to sit entranced by the lecture, and the words trigger only associative thinking and bring, as it were, only a flush to his cheeks and a glow to his limbs; but he has not dispelled or dispersed, in the warm light of philosophy, the internal dank gloom of his mind.


I rather like the original.
Upcoming Knowledge Events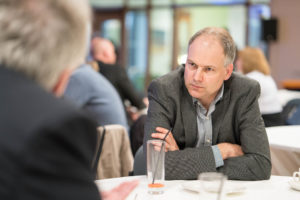 Here are some of the
major KM events
taking place around the world in the coming months and ones in which I am actively involved. You will find a
full list
on my website where you can also subscribe to both regional e-mail alerts and
RSS feeds
which will keep you informed of new and upcoming events.
Advancing your OD practice
23 - 24 Jan 2018, Henley on Thames, United Kingdom
Knowledge Governments: Best Practices and Lessons Learned
07 - 08 Feb 2018, Kuwait City, Kuwait
The Art of: Knowledge Management, Learning & Communication
Thu 22 Feb 2018, Melbourne, Australia
IntraTeam Event Copenhagen 2018
27 Feb - 01 Mar 2018, Copenhagen, Denmark
6th International Conference on Innovation and Entrepreneurship 2018
05 - 06 Mar 2018, Washington DC, United States
Henley Forum Conference 2018
07 - 08 Mar 2018, Henley on Thames, United Kingdom
International Days of Competences for the Future
12 - 14 Mar 2018, Poznan, Poland
The International Conference on Innovation & Knowledge Management (iKM2018)
17 - 18 Mar 2018, Beijing, China
10th European Conference on Intangibles and Intellectual Capital
19 - 20 Apr 2018, Mechelen, Belgium
END 2018 Conference
23 - 25 Jun 2018, Budapest, Hungary
9th Knowledge Management International Conference
25 - 27 Jul 2018, Sarawak, Malaysia
19th European Conference on Knowledge Management
06 - 07 Sep 2018, Padua, Italy
13th European Conference on Innovation and Entrepreneurship
20 - 21 Sep 2018, Aveiro, Portugal
Gurteen Knowledge Tweets: December 2017
Here are some of my more popular recent tweets. Take a look, if you are not a Tweeter, you will get a good idea of how I use it by browsing the list of micro-posts.
If you like the Tweets then
subscribe to my Tweet stream
.
Supporting my work
If you enjoy this Knowledge Letter and would like to support me by donating $1 (or more) a month then
Become a Patron
.
Subscribing and Unsubscribing
You may
subscribe
to this newsletter on my website. Or if you no longer wish to receive this newsletter or if you wish to modify your e-mail address or make other changes to your membership profile then please go
to this page on my website
.
The Gurteen Knowledge Letter
The Gurteen Knowledge-Letter is a free monthly e-mail based KM newsletter for knowledge workers. Its purpose is to help you better manage your knowledge and to stimulate thought and interest in such subjects as Knowledge Management, Learning, Creativity and the effective use of Internet technology.
Archive copies
are held on-line where you can
register
to receive the newsletter.
It is sponsored by the
Henley Forum
of the Henley Business School, Oxfordshire, England.
You may copy, reprint or forward all or part of this newsletter to friends, colleagues or customers, so long as any use is not for resale or profit and I am attributed. And if you have any queries please
contact me
.
David GURTEEN
Gurteen Knowledge
Fleet, United Kingdom