Gurteen Knowledge Letter: Issue 209 - November 2017Contents
Introduction to the November 2017 Knowledge Letter
It is not very often I get an award but I was delighted earlier this month to be one of the winners of this year's
CILIP Walford Award
for information professionals who have made an outstanding contribution to knowledge and information services.
Thank you
CILIP
(The Library & Information Association).
Is Sophia, the robot harmless?
I hope you have not missed all the fuss about a robot called
Sophia that was granted Saudi Arabian citizenship
recently and all the media razzmatazz around it.
A bit of harmless fun you might think or is it harmless?
Harmless enough, if you understand that Sophia, although a fantastic bit of technology is not that smart. It is somewhat like Apple's Siri combined with some sophisticated puppetry plus the ability to recite preprogrammed scripts. No intelligence there at all.
But if you don't understand this, Sophia is misleading you (and even scaring you) into believing that
general artificial intelligence
is far more advanced than it is.
There are many articles on the web about Sophia but what concerns me is that so few of them explain or even seem to understand how Sophia works. This article however, does explain a little:
Inside the mechanical brain of the world's first robot citizen
.
But I cannot find any articles other than this one that get to the heart of this issue and that sum up my feelings on the matter:
Humanoid robot Sophia is a sad hoax that harms AI research
. I think we need to take artificial intelligence a little more seriously.
Connecting and synchronizing minds
I happened to notice that the theme for
Expo 2020 Dubai
was
Connecting Minds
and I was drawn to the metaphor of
connecting minds
.
So I googled a little and found a fascinating neuroscience research paper -
Speaker-listener neural coupling underlies successful communication
. See
Good connection really does lead to mind meld
for a less technical overview and note the excerpt below (my emphasis in bold).
They found that speaking and listening used common rather than separate neural subsystems inside each brain.

Even more striking was an overlap between the brains of speaker and listener.

When post-scan interviews found that stories had resonated, scans showed a complex interplay of neural call and response, as if language were a wire between test subjects' brains.


It seems good conversation really does connect minds.
Saudi Vision 2030
I've just spent a few days in Riyadh where I gave a talk and run a Knowledge Café as part of a KM Forum entitled "Knowledge Management Utilization in Realizing Saudi Vision 2030" organized by the
Naseej Academy
.
Saudi Vision 2030 is a plan to reduce Saudi Arabia's dependence on oil, diversify its economy, and develop public service sectors such as health, education, infrastructure, recreation, and tourism.
My talk was about how KM could be used strategically to help achieve the vision and the question that initiated the Knowledge Café "Given that even the experts do not have a good track record of predicting the future, and strategic plans often fail to deliver fully on their promises, how can KM help us better formulate and execute strategy?"
It was good day and I was delighted with the extent to which the participants engaged with the Knowledge Café and saw it's potential.
The
Saudi Vision for 2030
is ambitious as it is impressive. Take a look at this
PDF for some of the detail
.
I truly wish them all the best in transforming their country and society.
Should you take a vote before a discussion?
Two opposite points of view here.
David Marquet thinks its a good idea
to take a vote
before you start to take a decision making discussion.
While Michael Roberto
disagrees
.
I quite like the idea of voting early but share Michael's concerns. What do you think?
Dubai Knowledge Summit 2017
The Mohammed bin Rashid Al Maktoum Knowledge Foundation (
MBRF
) recently organized and held the fourth annual Knowledge Summit in Dubai. Here are a
few videos
that you may find of interest from the
Summit
.
PowerPoint is still poisoning us
It's a while since I last talked about what I call
conversational conferences
- February 2013 to be exact.
I am now starting to pull some of that old material into my
blook and updating it
.
I do wish conference organizers would make their events more participatory - making conference conversational is not the full answer but is a simple enough, low cost step.
Upcoming Knowledge Events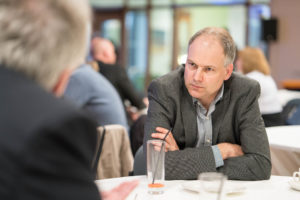 Here are some of the
major KM events
taking place around the world in the coming months and ones in which I am actively involved. You will find a
full list
on my website where you can also subscribe to both regional e-mail alerts and
RSS feeds
which will keep you informed of new and upcoming events.
Arabian Gulf Career Development Forum 2017 (CADEF)
18 - 20 Dec 2017, Kuwait City, Kuwait
Advancing your OD practice
23 - 24 Jan 2018, Henley on Thames, United Kingdom
Knowledge Governments: Best Practices and Lessons Learned
07 - 08 Feb 2018, Kuwait City, Kuwait
The Art of: Knowledge Management, Learning & Communication
Thu 22 Feb 2018, Melbourne, Australia
IntraTeam Event Copenhagen 2018
27 Feb - 01 Mar 2018, Copenhagen, Denmark
6th International Conference on Innovation and Entrepreneurship 2018
05 - 06 Mar 2018, Washington DC, United States
Henley Forum Conference 2018
07 - 08 Mar 2018, Henley on Thames, United Kingdom
10th European Conference on Intangibles and Intellectual Capital
19 - 20 Apr 2018, Mechelen, Belgium
KM: The Works (May 2018)
Thu 17 May 2018, London, United Kingdom
END 2018 Conference
23 - 25 Jun 2018, Budapest, Hungary
Deep Knowledge
Wed 11 Jul 2018, London, United Kingdom
Gurteen Knowledge Tweets: November 2017
Here are some of my more popular recent tweets. Take a look, if you are not a Tweeter, you will get a good idea of how I use it by browsing the list of micro-posts.
If you like the Tweets then
subscribe to my Tweet stream
.
Supporting my work
If you enjoy this Knowledge Letter and would like to support me by donating $1 (or more) a month then
Become a Patron
.
Subscribing and Unsubscribing
You may
subscribe
to this newsletter on my website. Or if you no longer wish to receive this newsletter or if you wish to modify your e-mail address or make other changes to your membership profile then please go
to this page on my website
.
The Gurteen Knowledge Letter
The Gurteen Knowledge-Letter is a free monthly e-mail based KM newsletter for knowledge workers. Its purpose is to help you better manage your knowledge and to stimulate thought and interest in such subjects as Knowledge Management, Learning, Creativity and the effective use of Internet technology.
Archive copies
are held on-line where you can
register
to receive the newsletter.
It is sponsored by the
Henley Forum
of the Henley Business School, Oxfordshire, England.
You may copy, reprint or forward all or part of this newsletter to friends, colleagues or customers, so long as any use is not for resale or profit and I am attributed. And if you have any queries please
contact me
.
David GURTEEN
Gurteen Knowledge
Fleet, United Kingdom