The Knowledge Management Professional Center Asia (KMPCA) is an independent and non-profit organization.

KMPCA was founded to create a learning community of knowledge management for efficient and effective applying best practices to organizations.

KMPCA develops and provides knowledge, understandings, and solutions in 3 main areas which are Intellectual Capital, Innovation, and System Thinking.




Flickr Slideshow: United Nations, Bangkok August 2007





Gurteen Knowledge Community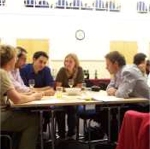 The Gurteen Knowledge Community is a global learning community of over 21,000 people in 160 countries across the world.

The community is for people who are committed to making a difference: people who wish to share and learn from each other and who strive to see the world differently, think differently and act differently.

Membership of the Gurteen Knowledge Community is free.
Knowledge Community