Knowledge has never been so much a source of power in the history as today. Nowadays no country is solely based on its vast population,huge financial resources or even managerial skills to go ahead,knowledge is the main tool of achieving goals. Iran has strongly stressed on the forward of its fourth 5-year development plan to be focused on a knowledge-based economy. Though there is quite a long way to get assured of a real knowledge-based approach in all aspects of a managerial system. By holding this event,we aim to get together all the researchers, managers, university professors, experts and all other interested groups and organizations to interact and share their experiences,expertise and findings in areas of Knowledge Management.





You will find information on hundreds of events such as conferences, workshops and courses on this website - events that relate to the themes of the site: knowledge, learning, creativity, innovation and personal development.

If you would like to receive an e-mail alert, no more than once a week, that informs you of recently posted events in your region then please click on the button below and complete the form. You also have the option of being reminded once a week of events coming up in your region within the next month.




On the other hand you may prefer to subscribe to an RSS Feed that will keep you informed of events in your region.



Gurteen Knowledge Community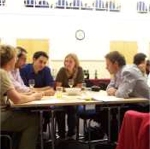 The Gurteen Knowledge Community is a global learning community of over 21,000 people in 160 countries across the world.

The community is for people who are committed to making a difference: people who wish to share and learn from each other and who strive to see the world differently, think differently and act differently.

Membership of the Gurteen Knowledge Community is free.
Knowledge Community