Video: David Gurteen on when innovation should take place





David Gurteen on when innovation should take place.

The Institute for Research and Innovation in Social Services (IRISS)

, Glasgow.

Media Information:



Below is a list of pages on this site that are associated in some way with Japan. Click here to view other countries and their associated pages.

The Knowledge Forum
Annual conference organized by the Knowledge Management Society of Japan



Japanese Research Lessons
Gurteen Knowledge-Log, David Gurteen, 24 November 2002



Ever thought of writing a book on a mobile phone?
Gurteen Knowledge-Log, David Gurteen, 3 December 2007



Hitotsubashi on Knowledge Management (Jan 2004) by Hirotaka Takeuchi

, Ikujiro Nonaka



The Knowledge-Creating Company (1995) by Ikujiro Nonaka, Hirotaka Takeuchi


How Japanese Companies Create the Dynamics of Innovation



Osaka (Japan)



Tokyo (Japan)



Japan (Asia > East Asia; Tokyo)



Knowledge Management Society of Japan

Knowledge and Information Systems for Knowledge Management (ICKM2015)
04 - 06 Nov 2015, International Council on Knowledge Management


I-site Namba campus, Osaka Prefecture Univv., Osaka, Japan



8th International Conference on Innovation and Knowledge Management in Asia Pacific (IKMAP 2016)
Fostering Long-term Value Creation and Growth
23 - 24 Oct 2016, The Japan Intellectual Capital Management Association and the Knowledge Management and Innovation Research Centre (KMIRC) of The Hong Kong Polytechnic University


Kobe, Japan



ISPIM Connects Fukuoka
Building on Innovation Tradition
02 - 05 Dec 2018, The International Society for Professional Innovation Management


Hilton Fukuoka Sea Hawk Hotel, Fukuoka, Japan



If you are interested in Knowledge Management, the

Knowledge Café

or the role of conversation in organizational life then you my be interested in this online book I am writing on

Conversational Leadership
Gurteen Knowledge Community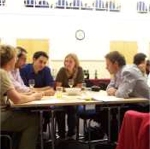 The Gurteen Knowledge Community is a global learning community of over 21,000 people in 160 countries across the world.

The community is for people who are committed to making a difference: people who wish to share and learn from each other and who strive to see the world differently, think differently and act differently.

Membership of the Gurteen Knowledge Community is free.
Knowledge Community