| | |
| --- | --- |
| Event Type | Conference |
| Twitter Hashtags | #ICIE16 |
| Organizer | Academic Conferences |
| Dates | 28 - 29 Apr 2016 |
| Venue | The Ted Rogers School of Management, Ryerson University |
| Location | Toronto, Canada |
| VIEW | |

Innovation and entrepreneurship are tightly coupled concepts. Innovation involves designing new ways of conceptualising, developing and producing a range of goods and services which society requires. Although inventing new things may be seen as part of innovation, innovation does not exclusively rely on new discoveries. Rather it can stem from simply seeing new ways of satisfying demand. Thus innovation is not a synonym for invention and almost anyone can come up with new innovations.

Entrepreneurship adds a further dimension to how new ideas are converted into goods and services. Entrepreneurship is sometimes said to be a mindset required to convert innovation into a real business situation which will deliver benefits to the stakeholders. Entrepreneurship is always driven by an individual or a small group of individuals who are referred to as entrepreneurs and who are sometimes colloquially referred to as the 'movers and shakers' in our society. Thus the entrepreneur configures the various factors of products to that they become a viable proposition.

The Ted Rogers School of Management at Ryerson University welcomes you to Toronto for the 4th International Conference on Innovation and Entrepreneurship. We look forward to hosting you in our dynamic and exciting city.

In January of 2015, the Economist Magazine ranked Toronto as the Best Place to Live in the World. It also ranked it as the 8th safest city in the world, the safest in North America.

Toronto is Canada's largest city, the fourth largest in North America, and home to a diverse population of about 3 million people. It's a global centre for business, finance, arts and culture.

Toronto's rich multicultural diversity is expressed by the more than 200 distinct ethnic origins of its residents and half of its population was born outside of Canada with almost half have a mother tongue other than English or French.

It has a vibrant downtown that includes Canada's financial centre, the world's third largest location for English language theatre (after London and New York) and many galleries and museums. There are top-class restaurants with a wide variety of ethnic flavours and more than enough locations where you can shop till you drop!

Ryerson University is in the centre of the city, an urban University recognised as Canada's Innovation University and host to the widest range of entrepreneurship education and incubation in the country.



Video: Robin Good TV







You will find information on hundreds of events such as conferences, workshops and courses on this website - events that relate to the themes of the site: knowledge, learning, creativity, innovation and personal development.

If you would like to receive an e-mail alert, no more than once a week, that informs you of recently posted events in your region then please click on the button below and complete the form. You also have the option of being reminded once a week of events coming up in your region within the next month.




On the other hand you may prefer to subscribe to an RSS Feed that will keep you informed of events in your region.
If you are interested in Knowledge Management, the
Knowledge Café
or the role of conversation in organizational life then you my be interested in this online book I am writing on
Conversational Leadership
Gurteen Knowledge Community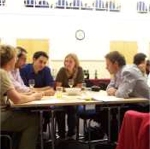 The Gurteen Knowledge Community is a global learning community of over 21,000 people in 160 countries across the world.

The community is for people who are committed to making a difference: people who wish to share and learn from each other and who strive to see the world differently, think differently and act differently.

Membership of the Gurteen Knowledge Community is free.
Knowledge Community