Six Thinking Hats. You will find information about Dr de Bono, his books, feedback, his courses for children, families and adults, his community projects, the creative team, his accredited trainers and their schedule of courses.




Flickr Slideshow: Washington DC Knowledge Cafe, March 2007





Photo slideshow of Washington DC Knowledge Cafe, March 2007. The Knowledge Cafe was hosted by the "Federal CIO Council's Best Practices Committee Knowledge Management Working Group" and the speaker was Zeke Wolfberg of the Defense Intelligence Agency's Knowledge Laboratory on the theme "Operationalizing Risk in Knowledge Organizations".

Media Information:



Gurteen Knowledge Community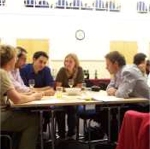 The Gurteen Knowledge Community is a global learning community of over 21,000 people in 160 countries across the world.

The community is for people who are committed to making a difference: people who wish to share and learn from each other and who strive to see the world differently, think differently and act differently.

Membership of the Gurteen Knowledge Community is free.
Knowledge Community