;

This book's content includes:

· a framework for combining and applying Knowledge Management approaches and techniques to improve the organization's ability to deliver on strategic goals, and learn lessons from its own activities and from the wider business environment

· help for managers to articulate the need for Knowledge Management, build a robust business case and win funding approval

· assistance in designing knowledge management delivery programmes - looking in depth at role of and potential for Technologies, Processes, Information, People, and Leadership

· detailed analysis of Knowledge Management tools and techniques, with case studies showing how these have been used in different organizations

· advice and guidance on implementing successful Knowledge Management projects based on lengthy project experience, including tips and techniques for managing risks and benefits, ensuring the gains delivered don't wither away

] · approaches to building links into BPR, Quality and Learning Organization initiatives, along with efforts to improve and manage innovation

· identifying important trends around knowledge and information to watch for in the coming decade




Video: Web 2.0 for public officials.





David Gurteen discute as influências da web 2.0. para os funcionários públicos e as mudanças no relacionamento entre os níveis hierárquicos. (David Gurteen discusses the influences of web 2.0. for public officials.) Filmed at KM Brasil 2008.

Media Information:



You will find information on over 200 books on this website - books that relate to the themes of the site: knowledge, learning, creativity, innovation and personal development.

If you would like to receive an e-mail alert whenever I post information about a new book (i.e. one that has been published in the last 12 months) then please click on the button below and complete the form.



Knowledge Management (Oct 2002) by Tom Knight

, Trevor Howes


A blueprint for delivery



Would you like to learn how to run a Knowledge Café?

If so, I am running a Knowledge Café Masterclass with CILIP in central London on Thursday 1st November 2018.

You can find full information here: 

https://www.cilip.org.uk/page/KnowledgeCafe
David Gurteen

I help people to share their knowledge; to learn from each other; to innovate and to work together effectively to make a difference!
How to contact me
My Blog
Gurteen Knowledge Community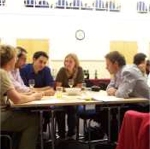 The Gurteen Knowledge Community is a global learning community of over 21,000 people in 160 countries across the world.

The community is for people who are committed to making a difference: people who wish to share and learn from each other and who strive to see the world differently, think differently and act differently.

Membership of the Gurteen Knowledge Community is free.
Knowledge Community