Join us at ISPIM Connects Bangkok 2020 to discover how the Innovation Community in this vibrant city and region is blossoming. This conference, ISPIM's first in Thailand, will bring together 250 innovation professionals from around 25 countries.
Thailand is on the road to becoming an innovation Hub in Southeast Asia. Government, private sector, universities and start-ups are working together to develop an innovation ecosystem to support the Thailand Government's economy 4.0 agenda. Thailand is eager to develop an inclusive, sustainable and technologically advanced economy, which is reflected, for example, in the emergence of digital parks, co-working spaces and in its vibrant community of entrepreneurs. A strong emphasis on social innovation is also an interesting characteristic of the Thai Innovation Landscape. Most large Thai organizations list innovation among their top strategic priorities and there is much to be learned from these companies innovating in constrained emerging markets.

Video: Clay Shirky: How cognitive surplus will change the world







You will find information on hundreds of events such as conferences, workshops and courses on this website - events that relate to the themes of the site: knowledge, learning, creativity, innovation and personal development.

If you would like to receive an e-mail alert, no more than once a week, that informs you of recently posted events in your region then please click on the button below and complete the form. You also have the option of being reminded once a week of events coming up in your region within the next month.




On the other hand you may prefer to subscribe to an RSS Feed that will keep you informed of events in your region.
If you are interested in Knowledge Management, the
Knowledge Café
or the role of conversation in organizational life then you my be interested in this online book I am writing on
Conversational Leadership
Gurteen Knowledge Community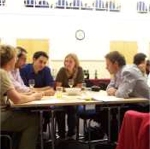 The Gurteen Knowledge Community is a global learning community of over 21,000 people in 160 countries across the world.

The community is for people who are committed to making a difference: people who wish to share and learn from each other and who strive to see the world differently, think differently and act differently.

Membership of the Gurteen Knowledge Community is free.
Knowledge Community