The WWW/Internet 2017 Conference aims to address the main issues of concern within WWW/Internet. WWW and Internet had a huge development in recent years. Aspects of concern are no longer just technical anymore but other aspects have arisen. This conference aims to cover both technological as well as non-technological issues related to these developments.

Areas: Web 2.0, Collaborative Systems, Semantic Web and XML, Ontologies, e-Learning, e-Commerce / e-Business, e-Government, Web-based multimedia technologies, Services, Architectures and Web Development, Wireless Web, Mobile Web, Web Science, Digital Rights Management, Human Computer Interaction and Usability, Web Security and Privacy.



Video: David Gurteen on how to best secure continuous innovation





David Gurteen on how to best secure continuous innovation.

The Institute for Research and Innovation in Social Services (IRISS)

, Glasgow.

Media Information:



You will find information on hundreds of events such as conferences, workshops and courses on this website - events that relate to the themes of the site: knowledge, learning, creativity, innovation and personal development.

If you would like to receive an e-mail alert, no more than once a week, that informs you of recently posted events in your region then please click on the button below and complete the form. You also have the option of being reminded once a week of events coming up in your region within the next month.




On the other hand you may prefer to subscribe to an RSS Feed that will keep you informed of events in your region.
Gurteen Knowledge Community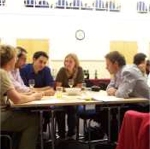 The Gurteen Knowledge Community is a global learning community of over 21,000 people in 160 countries across the world.

The community is for people who are committed to making a difference: people who wish to share and learn from each other and who strive to see the world differently, think differently and act differently.

Membership of the Gurteen Knowledge Community is free.
Knowledge Community