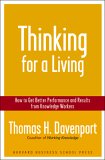 Knowledge workers create the innovations and strategies that keep their firms competitive and the economy healthy. Yet companies continue to manage this new breed of employee with techniques designed for the Industrial Age. As this critical sector of the workforce continues to increase in size and importance, that's a mistake that could cost companies their future.

Thomas Davenport argues that knowledge workers are vastly different from other types of workers in their motivations, attitudes, and need for autonomy—and so they require different management techniques to improve their performance and productivity. Based on extensive research involving over one hundred companies and more than six hundred knowledge workers, Thinking for a Living provides rich insights into how knowledge workers think, how they accomplish tasks, and what motivates them to excel.

Davenport identifies four major categories of knowledge workers and presents a unique framework for matching specific types of workers with the management strategies that yield the greatest performance. Written by the field's premier thought leader, Thinking for a Living reveals how to maximize the brain power that fuels organizational success.




Video: Knowledge Sharing Talk at NLB, Singapore







You will find information on over 200 books on this website - books that relate to the themes of the site: knowledge, learning, creativity, innovation and personal development.

If you would like to receive an e-mail alert whenever I post information about a new book (i.e. one that has been published in the last 12 months) then please click on the button below and complete the form.



Knowledge Management is dead, long live knowledge sharing!
Gurteen Knowledge-Log, David Gurteen, 8 July 2008



Information Ecology (1997) by Larry Prusak, Thomas H. Davenport
Mastering the Information and Knowledge Environment



Process Innovation (1992) by Thomas H. Davenport
Reengineering Work through Information Technology



Thinking for a Living (Sep 2005) by Thomas H. Davenport
How to get better performances and work from knowledge workers



Working Knowledge (1998) by Thomas H. Davenport, Larry Prusak
How Organizations Manage What They Know



Thomas H. Davenport Director of the Accenture Institute for Strategic Change



If you are interested in Knowledge Management, the

Knowledge Café

or the role of conversation in organizational life then you my be interested in this online book I am writing on

Conversational Leadership
Gurteen Knowledge Community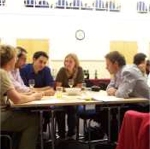 The Gurteen Knowledge Community is a global learning community of over 21,000 people in 160 countries across the world.

The community is for people who are committed to making a difference: people who wish to share and learn from each other and who strive to see the world differently, think differently and act differently.

Membership of the Gurteen Knowledge Community is free.
Knowledge Community