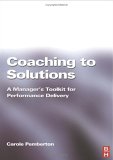 "A book which takes the reader to the essence of coaching – why it's important, and how to make it work. Packed with strategies and insights that would make even a professional coach shine, it offers a practical, focused toolkit capable of giving every manager effective coaching skills." John Lees, career strategist and author of Take Control of Your Career.

Coaching To Solutions – A Managers Toolkit For Performance Delivery is essential reading to help you deliver performance coaching within the daily demands of your management role and outlines:
Practical case studies, and provides a guiding framework throughout the text
Coaching as a performance raising tool and means of building motivation
Principles which will enable managers to help employees understand their own models for resolving difficulties
A solution focused approach to coaching that offers pragmatic tools to effectively manage conversations to meaningful outcomes

Video: David Gurteen on who should drive innovation





David Gurteen on who should drive innovation.

The Institute for Research and Innovation in Social Services (IRISS)

, Glasgow.

Media Information:



You will find information on over 200 books on this website - books that relate to the themes of the site: knowledge, learning, creativity, innovation and personal development.

If you would like to receive an e-mail alert whenever I post information about a new book (i.e. one that has been published in the last 12 months) then please click on the button below and complete the form.



Coaching to Solutions (Feb 2006) by Carole Pemberton


A Manager's Toolkit for Performance Delivery



Would you like to learn how to run a Knowledge Café?

If so, I am running a Knowledge Café Masterclass with CILIP in central London on Thursday 1st November 2018.

You can find full information here: 

https://www.cilip.org.uk/page/KnowledgeCafe
David Gurteen

I help people to share their knowledge; to learn from each other; to innovate and to work together effectively to make a difference!
How to contact me
My Blog
Gurteen Knowledge Community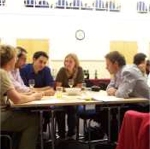 The Gurteen Knowledge Community is a global learning community of over 21,000 people in 160 countries across the world.

The community is for people who are committed to making a difference: people who wish to share and learn from each other and who strive to see the world differently, think differently and act differently.

Membership of the Gurteen Knowledge Community is free.
Knowledge Community