Gurteen Knowledge Letter: Issue 229 - July 2019Contents
Introduction to the July 2019 Knowledge Letter
I hope you are aware by now that the
Conversational Leadership workshop
which Nancy Dixon, John Hovell and I are running in September is coming up fast.
The early bird is still available but for not much longer.
Here is a recent blog post of Nancy's that talks about one of the most important issues on Conversational Leadership and that is of he need to learn to "Speak Up":
A Skill Set That Makes Open and Honest Conversation Possible
.
Do take a look at the
workshop
if you have not already, the three of us have been working hard to put the event together and we have a great 3 days planned for the participants.
Leadership + Conversation = Conversational Leadership
These two short videos get to the heart of Conversational Leadership.
Leadership is a practice not a position of authority
by Ronald Heifetz
What is the work of leadership?
by Patricia Shaw
In summary using Ron's and Patricia's words:
What is leadership?
: "If we understand leadership as a practice, as an activity, then it becomes available to anybody, high or low, any place or position."
What is the work of leadership?:
"Leadership is about convening conversations that might not otherwise happen."
Conversational Leadership:
We are all leaders. We lead through the conversations we convene and in which we engage.
Thaler Pekar interviews me on Conversational Leadership
Thaler Pekar recently interviewed me about my work on Conversational Leadership. She summed it up like this:
"What do good leaders do in terms of influencing the world or people around them? They do it fundamentally through conversation. Hence this term Conversational Leadership."
You will find the
interview here
.
Updates to my blook on Conversational Leadership July 2019
I continue to develop my blook on Conversational Leadership by the day.
I have been slowly adding
profiles of people
who have influenced and continue to influence my work. The profiles include a short one or two line description of the person and a brief description of how I know them. They also include links to Linkedin profiles, blogs, websites etc., along with links to the posts in my blook where their work is referenced.
I have also included, where available, a recent video of the person speaking to give some deeper insight into their work and their personality.
Here are my most recent additions:
Do you have the capacity to hold a good conversation?
In preparing for our
Conversational Leadership workshop
,
Nancy Dixon
,
John Hovell
and I keep coming back to the question "
What is real conversation?
" or "What makes a good conversation?" and the more we converse about it - the richer the picture that emerges.
In two blog posts by
Dave Pollard
, he lists seven conversational capacities or skills that he considers prerequisites to a good conversation,including things like "the capacity to think critically" or "the capacity to be curious". Recall the frustration of trying to have a conversation with someone who could not argue critically or whose arguments had no coherence.
I've taken Dave's list and I am expanding on it here:
conversational capacities
.
It's an interesting list, what do you think is missing? Which is the most important capacity?
Please help support my work
I have been writing and publishing this Knowledge Letter every month for over 17 years and most of you have been receiving it for 5 years or more. My Knowledge Café also had its 16th birthday last September.
If you enjoy my work and find it valuable, please consider giving me a little support by donating $1 (or more) a month to
Become a Patron
or making small one off contribution.
I am not going to get rich on this but it will help cover some of my website hosting expenses.
I have 49 patrons so far. A big thanks to you all.
Promoting Knowledge Management activities through my website
I am always looking to help promote activities in the KM field. To this end you can:
Gurteen Knowledge Tweets: July 2019
Here are some of my more popular recent tweets. Take a look, if you are not a Tweeter, you will get a good idea of how I use it by browsing the list of micro-posts.
If you like the Tweets then
subscribe to my Tweet stream
.
Upcoming Knowledge Events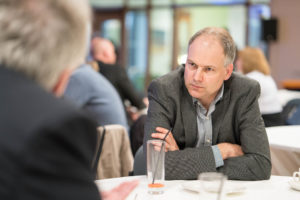 Here are some of the
major KM events
taking place around the world in the coming months and ones in which I am actively involved. You will find a
full list
on my website where you can also subscribe to both regional e-mail alerts and
RSS feeds
which will keep you informed of new and upcoming events.
20th European Conference on Knowledge Management
05 - 06 Sep 2019, lisbon, Portugal
14th European Conference on Innovation and Entrepreneurship
19 - 20 Sep 2019, Kalamata, Greece
Conversational Leadership Workshop
20 - 22 Sep 2019, Hartley Wintney, United Kingdom
Advancing your OD (Organisation Development) practice
24 - 25 Sep 2019, Henley on Thames, United Kingdom
European Conference on the Impact of Artificial Intelligence and Robotics
31 Oct - 01 Nov 2019, Oxford, United Kingdom
16th International Conference on Intellectual Capital, Knowledge Management & Organisational Learning 5-6 December 2019, Sydney, Australia
05 - 06 Dec 2019, Sydney, Australia
Unsubscribe
If you no longer wish to receive this newsletter then please reply to this email with "no newsletter" in the subject line.
The Gurteen Knowledge Letter
The Gurteen Knowledge-Letter is a free monthly e-mail based KM newsletter for knowledge workers. Its purpose is to help you better manage your knowledge and to stimulate thought and interest in such subjects as Knowledge Management, Learning, Creativity and the effective use of Internet technology.
Archive copies
are held on-line where you can
register
to receive the newsletter.
It is sponsored by the
Henley Forum
of the Henley Business School, Oxfordshire, England.
You may copy, reprint or forward all or part of this newsletter to friends, colleagues or customers, so long as any use is not for resale or profit and I am attributed. And if you have any queries please
contact me
.
David GURTEEN
Gurteen Knowledge
Fleet, United Kingdom