Gurteen Knowledge Letter: Issue 227 - May 2019Contents
Introduction to the May 2019 Knowledge Letter
A few months back, I met up with Peter Osborn and Eddie Canfor-Dumas, the authors of a fascinating new book called the
Talking Revolution: How creative conversation can change the world
.
I was introduced to them by an old friend Adrian Hosford who used to work for BT and was the creator of such wonderful advertisements extolling the virtues of talking as in this BT ad with Stephen Hawking
Speech has allowed human beings to work together to build the impossible
made in 1994. You will find a few more of Adrian's "It's good to talk" ads starring the likes of Maureen Lipman and Bob Hoskins
here
.
More recently, Eddie and Peter have created an online forum
The Talking Revolution
for discussing the importance of conversation and the need for a "talking revolution". The forum is based on Mighty Networks - a rather neat platform for hosting online discussions. It can also be conveniently accessed through
iOS and Android apps
.
It's early days yet but I think the forum has the makings of a great platform for discussing what they call the
The Talking Revolution
and I call
Conversational Leadership
and nicely complements my own
Conversational Leadership forum
on LinkedIn.
Go take a look and
sign-up
if you wish.
Speak last
If you wish to genuinely know the opinions of others and what they are thinking then ask them and listen to them before you express your views.
Speak last.
I find Simon Sinek's presentation style
on this topic
a little too slick for my liking although his message is spot on.
"Speak last" is one of the
habits of conversational leaders
.
Turn your death by PowerPoint talk into a conversational one.
Most conferences are a series of PowerPoint talks interspersed by the occasional panel discussion.
The audience gets a little time to ask questions, and they get absolutely no time to reflect or interact with each other besides in the coffee breaks or over lunch.
Not allowing time for conversation is a missed opportunity for conference delegates to engage with the contents of the conference and learn from each other.
It is a missed chance for the delegates to become participants rather than an audience.
It need not be this way
If you are a speaker, it so easy to turn a traditional talk into a conversational talk.
Here's how
.
Conversation Day
Conversation Day started in New York City in 2013 as a celebration of the joys and power of great conversation, sponsored by the non-profit volunteer organization
Conversations New York (CNY)
, founded and directed by Ronald Gross, co-chair of the University Seminar on Innovation at Columbia University .
On Saturday, June 8, Ron will be hosting
Conversation Day 2019 in New York
.
Worldwide, the event is celebrated annually on the second Saturday in June in over 20 cities including New York, London, Paris, Beijing, Tokyo, Lagos, Bangalore, Kuala Lumpur, and Riyadh.
Unfortunately, I only have the details for the
New York event
. and the
London event
which I will be joining. I hope to see one or two of you there.
Accountability vs. responsibility
I love this description of the difference between accountability and responsibility by Seth Godin.
Accountability is done to you. It's done by the industrial system, by those that want to create blame.

Responsibility is done by you. It's voluntary. You can take as much of it as you want.


It reminds my what I say about the
difference in my blook on Conversational Leadership
.
We can only choose to take responsibility for something. No one else can assign responsibility to us.

We take responsibility but are held accountable.
KM Summit 2019, London
It is still not too late to join the annual Ark Group
KM Summit 2019
next week on 4 - 5 June, at the Cumberland Hotel in London.
I will be giving a talk on Conversational Leadership in the plenary towards the end of the second day. Here is a
short video interview
with me.
Gurteen Knowledge Tweets: May 2019
Here are some of my more popular recent tweets. Take a look, if you are not a Tweeter, you will get a good idea of how I use it by browsing the list of micro-posts.
If you like the Tweets then
subscribe to my Tweet stream
.
Upcoming Knowledge Events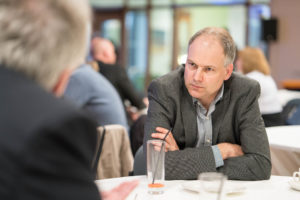 Here are some of the
major KM events
taking place around the world in the coming months and ones in which I am actively involved. You will find a
full list
on my website where you can also subscribe to both regional e-mail alerts and
RSS feeds
which will keep you informed of new and upcoming events.
KM Summit 2019
04 - 05 Jun 2019, London, United Kingdom
Social Now 2019
06 Jun 2019 - 07 Jun 2017, Lisbon, Portugal
Chief Learning Officers & Influencers Forum, Spring
11 - 13 Jun 2019, Scottsdale, United States
6th European Conference on Social Media
13 - 14 Jun 2019, Brighton, United Kingdom
Advanced Course in Knowledge Management (KM)
17 Jun - 18 Jul 2019, Henley, United Kingdom
TAKE 2019
03 Jul - 05 Jan 2019, Vienna, Austria
20th European Conference on Knowledge Management
05 - 06 Sep 2019, lisbon, Portugal
14th European Conference on Innovation and Entrepreneurship
19 - 20 Sep 2019, Kalamata, Greece
Conversational Leadership Workshop
20 - 22 Sep 2019, Hartley Wintney, United Kingdom
Advancing your OD (Organisation Development) practice
24 - 25 Sep 2019, Henley on Thames, United Kingdom
European Conference on the Impact of Artificial Intelligence and Robotics
31 Oct - 01 Nov 2019, Oxford, United Kingdom
16th International Conference on Intellectual Capital, Knowledge Management & Organisational Learning 5-6 December 2019, Sydney, Australia
05 - 06 Dec 2019, Sydney, Australia
Please help support my work
I have been writing and publishing this Knowledge Letter every month for over 17 years and most of you have been receiving it for 5 years or more. My Knowledge Café also had its 16th birthday last September.
If you enjoy my work and find it valuable, please consider giving me a little support by donating $1 (or more) a month to
Become a Patron
or making small one off contribution.
I am not going to get rich on this but it will help cover some of my website hosting expenses.
I have 48 patrons so far. A big thanks to you all.
Unsubscribe
If you no longer wish to receive this newsletter then please reply to this email with "no newsletter" in the subject line.
The Gurteen Knowledge Letter
The Gurteen Knowledge-Letter is a free monthly e-mail based KM newsletter for knowledge workers. Its purpose is to help you better manage your knowledge and to stimulate thought and interest in such subjects as Knowledge Management, Learning, Creativity and the effective use of Internet technology.
Archive copies
are held on-line where you can
register
to receive the newsletter.
It is sponsored by the
Henley Forum
of the Henley Business School, Oxfordshire, England.
You may copy, reprint or forward all or part of this newsletter to friends, colleagues or customers, so long as any use is not for resale or profit and I am attributed. And if you have any queries please
contact me
.
David GURTEEN
Gurteen Knowledge
Fleet, United Kingdom