error



Below is a list of pages on this site that are associated in some way with Indonesia. Click here to view other countries and their associated pages.




KM for Business: Managing successful KM projects to achieve business results
Posted to Gurteen Knowledge-Log by David Gurteen on 25 January 2010



Indosat Innovation Week: A knowedge cafe in a reception area!
Posted to Gurteen Knowledge-Log by David Gurteen on 19 March 2010



Conversational lessons from Jakarta
Posted to Gurteen Knowledge-Log by David Gurteen on 12 April 2010



Jakarta (Indonesia)



Indonesia (Asia > South-East Asia; Jakarta)



Knowledge Management Society Indonesia

Komunitas KM
An Indonesian KM community



An Introduction to the Gurteen Knowledge Cafe in Jakarta on 2 Feb 2012 (Free event)
Posted to Gurteen Mail Log by David Gurteen on 3 January 2012



Knowledge Management Summit 2019
05 - 06 Nov 2019, KM Society Indonesia
Hilton, Bandung, Indonesia



If you are interested in Knowledge Management, the

Knowledge Café

or the role of conversation in organizational life then you my be interested in this online book I am writing on

Conversational Leadership
Gurteen Knowledge Community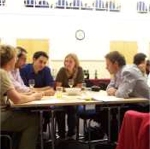 The Gurteen Knowledge Community is a global learning community of over 21,000 people in 160 countries across the world.

The community is for people who are committed to making a difference: people who wish to share and learn from each other and who strive to see the world differently, think differently and act differently.

Membership of the Gurteen Knowledge Community is free.
Knowledge Community