The Bhagvad Gita is the most important spiritual text in India. Bhagvad Gita is literally the "Song of the Lord". It is a book of about seven hundred Sanskrit verses, spread out over eighteen chapters, and is itself a chapter of the immense Indian epic, the Mahabharata. <br><br>

Taking the form of a dialogue between the prince and great warrior Arijuna and the God Krishna, this text explores mankind's spiritual dilemmas and examines the various pathways to salvation: through enlightenment, through action and through loving devotion to the Lord. <br><br>

The Gita is variously dated between the third century BC and the fourth century AD.




Presentation: Measuring KM, measures, targets and rewards





You will find information on over 200 books on this website - books that relate to the themes of the site: knowledge, learning, creativity, innovation and personal development.

If you would like to receive an e-mail alert whenever I post information about a new book (i.e. one that has been published in the last 12 months) then please click on the button below and complete the form.


No documents found
If you are interested in Knowledge Management, the
Knowledge Café
or the role of conversation in organizational life then you my be interested in this online book I am writing on
Conversational Leadership
Gurteen Knowledge Community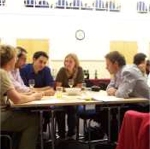 The Gurteen Knowledge Community is a global learning community of over 21,000 people in 160 countries across the world.

The community is for people who are committed to making a difference: people who wish to share and learn from each other and who strive to see the world differently, think differently and act differently.

Membership of the Gurteen Knowledge Community is free.
Knowledge Community